Currently, there are many Chinese watches brands focused on producing items that are far from being trinkets. Designs often overshadowed by the fame and the level of perfection of European watchmaking that deserve to be reviewed.
Until recently, Chinese watches were not very appreciated, but the evolution of the brands and the development of new models with better features at competitive prices in the international market have made them important.
Brands such as Cadisen, offer high-quality watches with a price that is usually much cheaper than that of many similar models from other countries.
However, we know very little about these watches, and most of the brands are unknown to those who are not watch specialists.
Today we are going to learn a little more about the subject, curiosities, and interesting facts about the history and evolution of Chinese watchmaking up to modern times, taking into account the most important Chinese watches brands of today.
✚ Chinese watches and their history
The history of Chinese watchmaking is very associated with military life. The first Chinese wristwatch appears in the early 1960s, developed by the Shanghai Wristwatch Factory, which created a small series of this type of watches. Hence the model Shanghai A623, which is considered as the first Chinese military use watch.
This limited series was delivered to the generals who were part of the People's Liberation Army. According to historical records, Li De Sheng (李德生) and Xiao Ke (肖克) were possessors of this watch, as well as the Chinese Prime Minister Zhou En Lai (周恩来).
These were timepieces that were only delivered to people with political and military weight in China, characters who were part of important events.
In fact, one of the most representative anecdotes of Chinese watches is their presence in the test explosion of the first Chinese nuclear device in 1964, a crucial event within the history of humanity.
➤ The first chronograph used by the air force
Another historic factory, the Tianjin Watch Factory, received the order in 1962 to manufacture the first wrist chronograph, one of the precursors of Chinese watchmaking. It was a demanding project, for which 32 sample watches were made in the period of a year.
Two years passed until in 1964 the official production of the "304" series began, which underwent harsh temperature, altitude, impact, water resistance, and magnetic field tests.
The result of those tests and modifications was the Tianjin 1963 Air Force Chronograph Watch, also known as Seagull 1963, the first chronograph entirely designed and manufactured in China.
1400 copies were made, under the authorization of 21 government agencies. The production costs were high and that prevented a new series from being manufactured. Some sources indicate that the final figure of this chronograph was 2000 pieces.
By 1969, the Central Military Commission commissioned the Shanghai Wristwatch Factory to develop the military watches "144" in versions of 29 rubies (SS2) and 24 rubies (SS4), considered luxury items and only delivered to regimental chiefs and division generals.
As a curiosity, they had an approximate cost of 240 RMB, about 35 US dollars of the time. 30,000 were produced, being the largest batch of Chinese watches to date.
✚ Best Chinese Watches Brands 2023
The first Chinese watches were developed due to military needs, but subsequently Chinese watchmaking advanced to the global commercialization of parts for most major watchmaking firms.
Currently, although China continues to supply components to other countries, some of these factories have begun to manufacture their own brands, in some cases producing quality watches that deserve to be mentioned.
Next, we will learn a little more about the different Chinese watches brands, their history, development and current market share.
➤ Steeldive

Steeldive is a Chinese watches brand well known for its diver-style designs, many of which resemble iconic Seiko watches, and some of them are no longer manufactured.
Many even use Japanese mechanisms from Seiko's own subsidiary, SII (Seiko Instruments INC). This, combined with their low cost, makes them very attractive to Chinese watch collectors.
Below these lines, you can see one of the most popular Steeldive watches built entirely of steel, with a sapphire crystal and a reliable NH35 from Seiko Instruments.
➤ Addiesdive
Addiesdive belongs to the same business conglomerate as Steeldive and manufactures the same watch models, but they usually have a slightly lower price.
It is curious because all the components are identical and even the presentation is the same. The only thing that changes in Addiesdive watches is the brand and logos.
Therefore, if this detail does not bother you, it can be a good way to get the same watch for a few euros less.
➤ Tandorio
Tandorio Watches is one of the Chinese watches brands that has gained the most popularity in recent months due to its high-quality features and competitive prices.
Some of its models resemble Steeldive watches in terms of design and materials, but with lower prices. They still also use sapphire glass, stainless steel cases, and Japanese automatic movements.
The brand is owned by Guangzhou Sebo Trading Co., Ltd., which also owns Matelion, Corgeut, and Parnis. They offer varied customization options and are available in a mid-range price bracket.
➤ Burei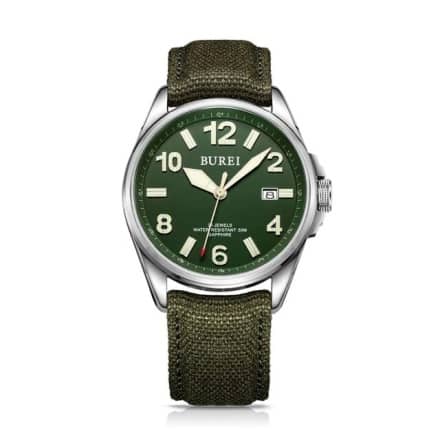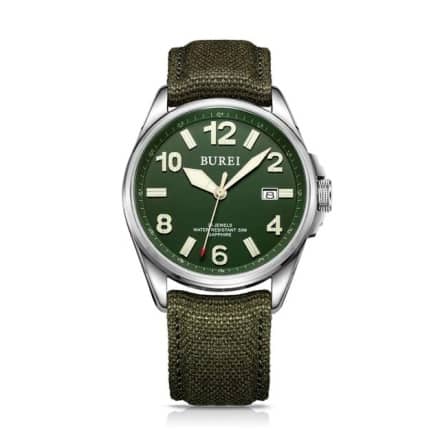 Burei watches are very popular in major online stores, where they garner a large number of positive reviews, but what many do not know is that they are also a Chinese brand.
This is achieved thanks to their fine watches with a Swiss aesthetic, for which they use quality materials such as stainless steel and the best thing is that they do it at an affordable price.
Burei also manufactures mechanical watches under the same philosophy of quality, some even with Seiko movements, which is a guarantee of good operation.
➤ Cadisen
Cadisen Watch is one of the Chinese watches brands with the most extensive catalog, although it is in mechanical designs where they especially stand out.
The Cadisen watches are elegant and also sporty, always betting on the use of quality materials and maintaining low costs.
They are not luxury watches, but their designs give the feeling that they are from a recognized brand, without plagiarizing or taking too many references from Swiss watchmaking.
➤ Starking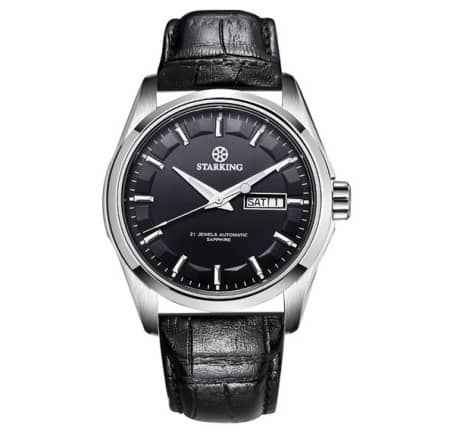 Founded in 1992 in Shenzhen, the Starking Watch Group is a company that bases its business on the manufacture of watches and their components.
The Starking watches were first presented to the international market in 1998 when the company made itself known at the Basel jewelry and watch fair and at the Hong Kong watch fair.
Since then, their watches have been exported to more than 30 countries in America, Europe and the Middle East, as well as owning other 300 brands in the sector.
Starking manufactures its own movements and also assembles Japanese Miyota calibres, which gives its watches a plus in quality.
➤ Loreo

Since 1993, Loreo designs and manufactures all types of watches, whether mechanical, smart or quartz, all of them with quite acceptable quality.
Shenzhen Loreo Watch Co.Ltd, as its name suggests, is based in Shenzhen, a Chinese city where it has a significant production center.
The Loreo watches often have features well above their price such as sapphire crystals and Seagull and even Miyota movements in some models.
In this sense, we can find for example their diver type watches, which enjoy a very good reputation among watch enthusiasts.
➤ Carnival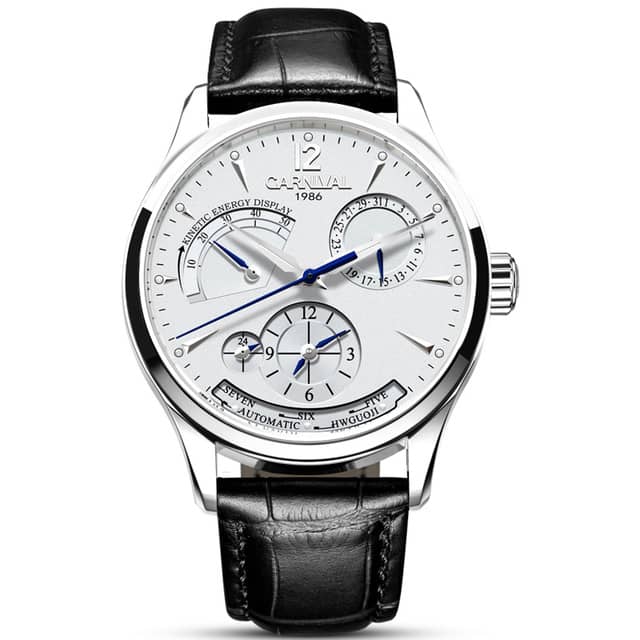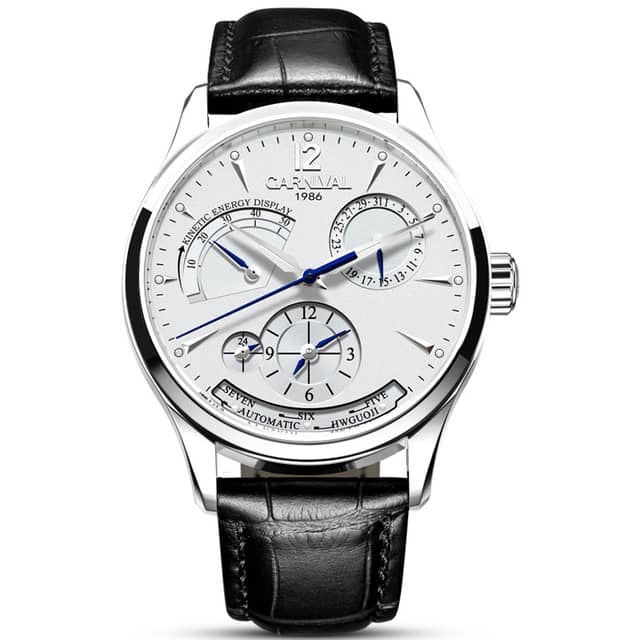 Carnival watches are known for using tritium to illuminate their dials, something not seen in other Chinese brands.
Tritium is a material that emits constant light, so when properly encapsulated in the hour markers, it can illuminate the dial for several years.
That's why they are slightly more expensive, although they are still affordable compared to other well-known Chinese watches brands.
➤ Feice
Feice has revolutionized the market by bringing a fresh perspective to Chinese watchmaking. Since its launch in 2009, the brand's main goal has been to change the negative perception often associated with Chinese watches brands.
Feice watches stand out primarily for their Bauhaus style, which characterizes all of their designs, but also for their high-quality construction that rivals brands from other countries.
It's not uncommon to see sapphire crystals protecting the dials of these watches or high-end Seagull movements inside. However, their prices are slightly higher than those of other Chinese brands.
➤ Sea-Gull
Sea-Gull is possibly one of the Chinese watches brands with the longest history. In fact, they are manufactured in the legendary Tianjin Watch Factory.
The watch factory located in Tianjin, China, was founded in 1955 and is currently known as the Tianjin Seagull Watch Factory.
The brand is also known for being the largest manufacturer of mechanical movement watches worldwide, producing a quarter of the global volume and employing over 3,000 employees.
➤ Parnis

Parnis Watches is a brand that has been successfully marketed in European and North American markets, expanding considerably since 2005.
The owning company is named Parnis Watch Co. and, like many other Chinese watches brands, has its headquarters in Hong Kong.
The main characteristic of these watches is their price, along with a versatile design characterized by large dials and a unique style.
All watches feature a marine-grade 316L stainless steel case, the same material used by brands like Omega.
The prices of their collections are not as affordable as those of other Chinese brands, but their features are quite in line with the price.
➤ Corgeut
Corgeut is a Chinese watches brand that stands out from the usual designs with its flieger-style watches and distinctive divers.
The Corgeut watches closely resemble Parnis watches both in design and quality, making it quite possible that they come from the same factory.
While this brand offers more affordable alternatives, it often allows choosing between Chinese or Japanese movements, which are slightly more expensive but of higher quality.
➤ Pagani Design
This brand is a bestseller on e-commerce platforms like Aliexpress and Alibaba. They offer automatic watches with creative designs and Seagull movements. They impress with impeccable packaging, great precision, and low cost.
The Pagani Design watches feature hardlex crystal and are generally sporty models with chronographs, although they offer the possibility to choose between leather or metal straps for increased personalization.
Their designs are "inspired by" or pay homage to established brands like Tag Heuer and Festina, but they are much less known as they are a fairly young brand. They use 316L stainless steel for both the case and straps.
➤ Skmei

Skmei offers some of the most affordable watches on the market, but their quality is not compromised. Although we have written about Skmei watches before, let's provide some details about the brand.
Skmei has become a prolific watch manufacturer for various markets and is preferred by resellers worldwide due to its low cost and good performance.
This Chinese watch brand offers fully digital sports collections that incorporate LED technology, with designs ranging from sporty to traditional.
They also have analog, automatic, and smartwatches in their lineup. Their designs often closely resemble those of more well-known brands, using materials such as polycarbonate and mineral crystal.
➤ SMAEL

SMAEL is a brand similar to the previous one, but more specialized in military and sports watches, as well as multifunctional watches that are even more affordable.
Although it may seem like the same brand, SMAEL watches belong to a different company, although it is not ruled out that they share components or even made in the same factory.

Naviforce watches is a young brand founded in 2012. Their philosophy is to uphold freedom and individuality and make durable and affordable watches accessible to men worldwide. Hence the inscription on their case ("for dream").
They offer economical and durable Chinese watches that share movements with other well-known brands. They have several collections depending on the type of watch:
Quartz Collection, with quartz movement
Multifunction Collection with chronograph and date
Multifunction Collection with digital display and simple quartz movement
They use the same materials as well-known brands in the market but charge much less. However, like many watches in their price segment, they have synthetic PU straps as well as higher-quality ones depending on the model.
➤ Curren

The Curren watches target a completely different segment than the previous ones. All those people who prefer watches with more careful details and artisanal techniques will prefer Chinese watches from this brand.
Each design is assembled with quality materials and special attention to detail, and the components undergo rigorous quality control, making this brand one of the best in current Chinese watchmaking.
There is also a curious story behind the brand, although it is not known for certain whether it is real or a marketing creation. You can find more information about it here.
➤ Lige
This brand draws inspiration from positivity and optimism to create a line of original watches that fit anyone's budget.
Quality is the most important aspect, and they strive for attention to detail. Since 2012, they have been manufacturing Chinese watches at the lowest possible prices, gaining great acceptance in the global market.
We won't delve too much into the history and characteristics of Lige watches as they already have their own section in this watch wiki.
➤ San Martin
San Martin is another Chinese brand specializing in diving watches and tributes with a high level of quality and detail.
It belongs to the Shenzhen Xingzhen Industrial Co group and, like most Chinese watchmakers, is located in the Guangdong region of China.
In general, San Martin watches share many components with the aforementioned Steeldive watches but add a higher quality in components such as the strap.
They even have models powered by Swiss Sellita-type mechanisms, although obviously they are much more expensive than the rest of the brands from the Far East.
➤ Heimdallr

Another Chinese microbrand of dive watches with certain quality is Heimdallr, well-known for its distinctive shark logo and monster-style designs.
Heimdallr watches often include high-level components, such as Seiko movements, sapphire crystal, and Super Luminova C3 lume for enhanced visibility in the dark.
According to their website, they don't manufacture in China, but the brand is actually owned by Shenzhen XingZhen Industrial Co., Ltd., so this information is somewhat doubtful.
✚ Other Chinese Watches Brands
➤ Poedagar
Poedagar is a Chinese watch brand that has gained popularity in recent years due to its attractive designs and affordable prices.
The company behind this brand is Guangzhou Junxiang Trading Co., Ltd., located in Guangzhou, China. Poedagar watches are characterized by being ultra-low-cost and, despite that, including interesting components in some models.
Although they are not high-end watches, Poedagar offers a variety of models that can be a valid option for those seeking a stylish and accessible timepiece.
➤ FNGEEN
The FNGEEN watches, originating from Guangdong, China, have emerged in the watch landscape as an affordable alternative with designs that capture both classic and sporty styles.
Founded in 2016 and officially registered in 2017 by Wenping Yang, the brand has leveraged the industrial dynamism of its province to produce attractive watches at low prices.
While sharing similarities with other Chinese watch brands like Winner and Forsining, FNGEEN has managed to forge a distinctive identity in the world of low-cost watchmaking.
➤ Sapphero
The Sapphero watches are known for their combination of aesthetics, durability, and value, making them an increasingly popular choice among watch enthusiasts worldwide.
Sapphero is an emerging brand in the watch industry that debuted in 2019 and quickly captured the market's attention with its initial collections.
Based in Guangzhou, this Chinese brand has solidified its presence with a unique design proposition and components that defy its price range.
➤ OLEVS
OLEVS is a Chinese watch brand founded in 2018, known for offering affordable and attractive options in terms of design.
Manufactured by Guangzhou Ouwo Trading Co., Ltd., these watches combine modern styles with interesting features.
With models that include both quartz and automatic mechanical movements, OLEVS provides variety at an accessible price.
Although OLEVS watches don't compete with high-end brands in terms of quality and durability, they are ideal for those seeking a fashionable timepiece for specific occasions.
➤ Oupinke
Oupinke is another Chinese watch brand that focuses on quality, using top-notch materials such as stainless steel and sapphire crystal.
The brand was registered by Zhang Zhiyong in 2020 in the Chinese district of Shaodong, so it is relatively new in the market.
This doesn't necessarily mean that Oupinke watches are bad, but obviously they have no connection to Switzerland, nor are they a long-established brand, as some models' advertisements suggest.
➤ Megir
Something interesting happens with this brand, and that is that Megir watches adopt characteristics that are usually seen in higher-budget watches.
It is one of the best Chinese watches brands precisely because it imitates the quality of products from recognized brands such as Omega and Fossil.
Their watches are generally water-resistant, equipped with Japanese quartz movements, and a silicone strap that makes them versatile, as well as more resistant to use and comfortable on the wrist.
This is a highly accepted product in countries like Spain due to its affordability and quality, in addition to the fact that its features make it look like watches from top brands at a fraction of their cost.
➤ Guanqin

Guanqin stands out as one of the few Chinese watches brands that use sapphire crystal and genuine leather in their designs. However, they are also among the most expensive on this list.
One of the best-selling Guanqin watches from the brand is the GJ16106 model, launched in 2016. It is made with polished 316L stainless steel, sapphire crystal, and a steel or leather strap, which sets it apart from other Asian watch brands.
This particular model is a clear homage to the Nomos Lambda, although in a discreet way, as it does not become a perfect copy of it.
➤ André Belfort

The philosophy of this brand is perfection, which has allowed André Belfort to compete with Swiss watchmaking.
It is a brand that prefers and appreciates artisan work, and that is why its team of engineers and watchmakers work hard to develop cutting-edge models that use technology without losing elegance and sophistication.
Although their website suggests that they are watches manufactured in Switzerland, they are actually Chinese-made watches. However, this does not diminish their quality, as they are high-end automatic watches that usually include quality materials such as sapphire crystal.
Now, like other Chinese watches brands, their prices are often inflated. It is very common to see them for thousands of euros when their real value is infinitely lower, so it is very important to research thoroughly before purchasing them.
➤ Forsining
Forsining is also the manufacturer of the Jaragar and Winner brands and is one of the most sought-after Chinese watches brands in online stores.
The Forsining FSG165 has been one of the brand's best-selling watches since its international release in 2015.
There is very little information about the manufacturer, since it is a company with only 10 years of history, but its beautiful finishes and low prices have made this brand very popular on online retail sites.
Like other Chinese brands, their designs often reference luxury watches from major brands. You can find more information in our dedicated guide to Forsining watches.
➤ Haiqin

Haiqin is another Chinese brand that is manufactured in Guangzhou, a city in southern China where a significant portion of the country's watches are produced.
The company's vision in manufacturing Haiqin watches is to achieve quality with good materials at a fair price, using timeless designs that can be worn daily.
They generally produce automatic watches with visible movements, both from the front and the back, and some skeletonized models, all of them very affordable.
➤ Ailang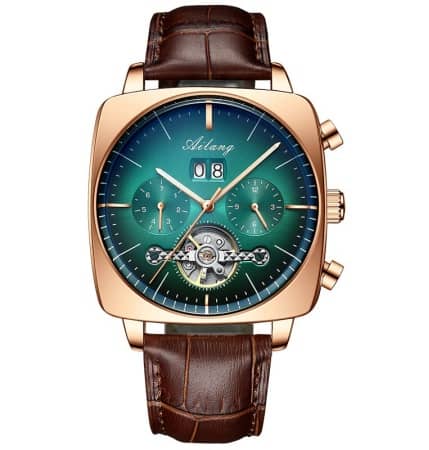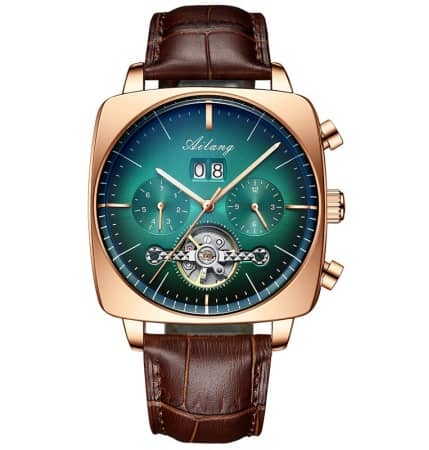 Founded in the early 90s, watchmaker Ailang, also known as "Shenzhen alang watch industry co., LTD," has its factory in the Guangzhou region of China.
Ailang specializes primarily in classic mechanical watches, many of which are skeletonized or have a significant portion of their movement visible.
It is an affordable brand that generally uses Chinese mechanisms, but their watches are still well-regarded as they are usually well-adjusted.
➤ Kademan

Kademan is a relatively new brand created in 2016 and belongs to the RongJia group, a Chinese watch conglomerate based in Guangzhou.
Kademan watches are basically very affordable quartz watches that usually perform well despite their low cost.
In general, they are sporty designs, most of them with LCD displays and multiple functions, although they also manufacture some exclusively analog models.
➤ Winner

The Winner watches belong to the company Forsining (Guangzhou Ruixue Watch Company Limited), which also markets the Jaragar brand.
Their stainless steel model is the best-selling worldwide, being a low-cost watch that captivates the masses.
The Winner 43230 is the next one on the best-selling list, with all of them standing out for their classic style reminiscent of Russian watchmaking.
➤ Wwoor

Wwoor is a brand that specializes primarily in thin quartz watches, although the company offers a wide variety of designs.
Like many other Chinese brands, Wwoor watches are manufactured in Guangdong, a city located in southern China, where the majority of the country's watch industry is concentrated.
The brand's first watches were sold online in 2013 and are now well-known, especially among the female audience, for whom some of their best designs are reserved.
➤ Chenxi

The Chenxi watches are generally quartz watches with recognizable and very affordable designs, although they also include some low-cost mechanical watches.
The brand was registered by Hou Junhua in 2017, and its offices are located in the Hai Zhu district, which belongs to Guangzhou.
Although it is a very economical brand, some of their watches may include Hattori quartz movements manufactured by Seiko, which is a guarantee of good performance.
➤ Kinyued
Although there isn't much information available about this brand, Kinyued watches primarily focus on manufacturing classic-style automatic models at a low cost.
It could be said that it's one of the more budget-friendly Chinese watch brands, even though their designs often feature a stainless steel case, synthetic leather strap, and an automatic movement that can run for several hours without stopping.
➤ Xiaomi

This technology brand has invested in a complete line of Chinese-made smartwatches. They are competing in a segment of the watch industry that other brands are not targeting.
Their specialization in technology and market knowledge has allowed them to quickly make an impact in the watch world, despite being a relatively young brand.
These watches compete with giant technology brands like Samsung, primarily distinguishing themselves through their affordable prices.
➤ Weide

Weide watches are Chinese watches with a great international acceptance and are already present in more than 80 countries worldwide.
The brand is mainly dedicated to multifunctional sports watches, which stand out by combining analog and digital time displays on large LED screens.
Weide International Business LLC is directly responsible for their commercialization in different markets, with major Asian marketplaces being the first point where users worldwide can purchase these timepieces without intermediaries.
➤ Alienwork

This brand offers both automatic and analog watches with quartz mechanisms. They are good and affordable, particularly favored by resellers in Latin America due to their low cost.
There is not much information available about the manufacturer, but they stand out for their innovative design, which primarily appeals to athletes.
➤ Pixnor

Those who prefer elegant watches will find this brand to be a low-cost alternative.
One of the best-selling models from this manufacturer is the PIXNOR Dual Time, featuring a rubber strap, an alloy steel case, and a Japanese quartz movement.
➤ Benyar

Benyar watches offer similar features to European watches but at 10 to 15 times lower costs. Their specialty is chronographs, elegant and fully functional timepieces despite their low prices.
Therefore, they are Chinese watch brands with a luxurious appearance but at low prices. They use mineral crystal and leather, demonstrating their attention to quality and details.
You can find more information about the brand in this article: https://relojes.wiki/en/benyar/
➤ Tevise

Tevise was founded in 2012 in Guangzhou, and although it is a relatively new company, it has quickly made a name for itself among the well-known Chinese watches brands.
Their specialty is low-cost automatic watches, especially diver-style designs, but they also manufacture skeleton watches and even watches with moon phase complications.
However, the best thing about Tevise watches is undoubtedly their price, as they are significantly cheaper than automatic designs from other brands on this list.
➤ Sewor

Sewor is undoubtedly one of the most affordable Chinese automatic watch brands in the international market. Sewor watches feature a visible mechanical winding movement, making them extremely visually appealing.
They are elegant yet sporty, and they attract attention with their modern interpretation of watchmaking culture, reminiscent of the clocks found in grand European cathedrals.
➤ Jaragar

Jaragar is a brand owned by Guangzhou Ruixue Watch Company Limited, which also owns other Chinese watch brands such as Winner and Forsining.
Their designs are very similar to their sister brands, standing out mainly for their low cost and designs reminiscent of more luxurious timepieces.
➤ Lavaredo

Although not well-known, Lavaredo is gaining popularity due to the design and low cost of the mechanical watches it produces.
It is a young brand, as it was registered in 2020, and its headquarters are located in the Chinese province of Hunan.
Among the best-selling Lavaredo watches are several skeletonized mechanical models, like the one shown below.
➤ Fiyta

Fiyta is a Chinese brand known for its high-end designs. Therefore, they offer watches made of materials such as titanium, antimagnetic cases, and they use sapphire crystal which sets them apart from the affordable watch segment.
Their designs are striking and aim to compete in the global watch market at the level of Swiss watches and German watches.
Last update of links and images on 2023-09-25.