This text may contain some affiliate links. If you click on one of these links and purchase a product, relojes.wiki will receive a small commission (at no cost to you) that helps maintain the blog.
Every year, new thin watch brands emerge for both men and women, but it's not always easy to find one that suits our tastes and budget.
The search for thin watches has driven the watch industry to create increasingly slim designs, even fitting an automatic mechanism into a case as thin as 4.30 mm, as seen in the case of the Piaget Altiplano Ultimate.
However, while it's fascinating to see the number of components packed into such a small space, the truth is that with a cost close to €30,000, this watch remains out of reach for the average person.
Fortunately, there are now quartz watches whose mechanisms can fit into really slim cases, significantly reducing the costs to just a few euros.
This has led to the birth of numerous brands offering thin watches with a wide range of ultrathin designs available at more affordable prices. In this article, we will showcase some of the most well-known ones.
✚ Top Thin Watch Brands
Below, we will describe each of the main thin watch brands available today, along with their best-selling designs.
➤ Daniel Wellington
Despite being a relatively new player in the watchmaking world, Daniel Wellington is one of the most well-known thin watch brands today.
Founded by Swedish entrepreneur Filip Tysander in 2011, the brand has experienced remarkable growth thanks to its ultra-thin and minimalist watch designs, coupled with an effective social media marketing strategy.
Daniel Wellington watches are only 6 mm thick and feature Japanese quartz movements made by Miyota.
➤ Meller
Meller watches also follow the trend of ultra-thin and minimalist designs, with the added bonus of using higher-quality materials like sapphire crystal.
Most of the watches from this Barcelona-based brand are only 7 mm thick and feature Japanese quartz movements.
Additionally, thanks to their water-resistant steel cases, many of their designs can withstand depths of up to 50 meters.
➤ Bering
Few thin watch brands produce designs as innovative as Bering. The Danish designers excel in capturing attention with their creations.
Bering watches stand out not only for their ultra-slim Danish design but also for the high-quality materials used, such as sapphire, titanium, and even ceramic bezels in some models.
Most of their designs have thicknesses ranging from 6 to 9 mm and feature reliable Japanese movements. They also manufacture some solar watches with Seiko movements.
➤ MVMT
MVMT watches also follow the thin watch brand trend, but their designs target a younger and more dynamic audience.
This is a brand of American watches whose designs follow the current fashion trends, but they also integrate reliable mechanisms such as Miyota to ensure proper functioning.
The thickness of these watches ranges from 7 to 10 mm for quartz models, although the brand also manufactures chronographs and mechanical watches, which may be slightly thicker.
➤ CRRJU
Another thin watch brand gaining popularity in recent years is CRRJU, thanks in part to the low cost of their designs.
These Chinese ultra-slim watches have a thickness of about 8 mm and are characterized by their marked minimalist design, featuring no numerals and dual-color hands.
Most of their designs incorporate Japanese quartz movements and stainless steel mesh straps, although their cases are often made of an alloy (copper and zinc), which somewhat reduces the overall quality. Nevertheless, given their low cost, they are worth a try.
➤ Skagen
Skagen watches are also known for being very thin and sleek, a hallmark of Danish design that they represent. In fact, one could say that they serve as inspiration for other thin watch brands like Bering.
Since its founding in 1989, the brand has designed numerous ultrathin minimalist watches, with thicknesses as slim as 7 mm, which have set trends worldwide.
Skagen also manufactures chronographs and even smartwatches, which are still thin but slightly thicker due to the technology they incorporate. Nevertheless, with a thickness ranging from 9 to 11 mm, they can still be considered thin.
➤ CIVO
CIVO can be classified as a low-cost thin watch brand. They offer Chinese watches with an average thickness of about 9 mm and a wide range of models targeted at female audiences.
Essentially, they are very similar to what CRRJU produces, but CIVO designs tend to be a bit more daring. They also include Japanese quartz movements, and their prices are quite affordable.
➤ Burei
All Burei watches share one common feature: extreme thinness. In fact, the brand offers designs with as little as 6 mm thickness, and they even manufacture chronographs with 9 mm between the crystal and case back.
The brand boasts a wide variety of designs, including quartz and mechanical models, and they even produce some skeleton watches. However, the automatic models tend to be no thinner than 11 mm.
Some of their ultrathin watches even feature Miyota movements and sapphire crystal.
➤ Lacoste
Lacoste is not only a fashion brand but also manufactures very thin watches with a thickness of just 6 mm. The brand offers numerous ultra-slim models for both men and women, all of which share a clean and minimalist design.
In fact, many of these watches do not even include the date to maintain that minimalistic spirit. However, wearing the crocodile symbol on your wrist can be a bit expensive.
➤ Tommy Hilfiger
Another clothing brand that manufactures watches is Tommy Hilfiger, and they also have several models of extra-thin watches, such as those from the Pippa collection.
With a thickness of 6.6 mm, these are very slim and lightweight watches. They are made of stainless steel with a Milanese mesh strap and operate with a quite reliable quartz mechanism: the Seiko VJ20.
The brand also offers some quite thin chronographs, such as those from the Meg collection (8.2 mm thick) and the Chase collection (10 mm thick).
✚ Best Selling Thin Watches for Men
To help you better understand the fashion trends regarding ultra-slim men's watches, here is a list of the designs that have been best-selling in recent months:
✚ Best Selling Thin Watches for Women
If you are looking for an extra-thin women's watch, we can also show you the ones that are currently the best sellers: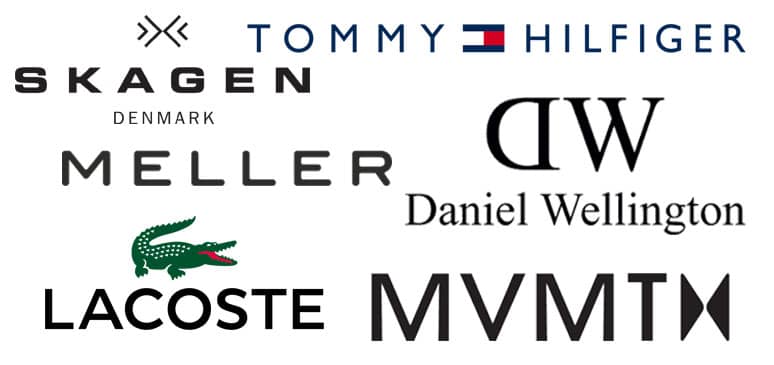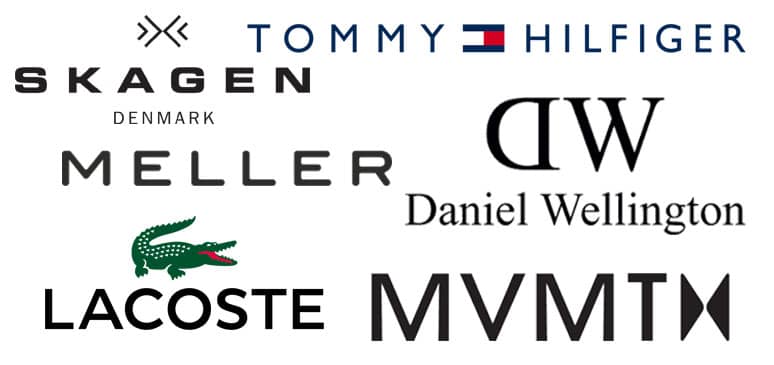 Last update of links and images on 2023-11-29.