This text may contain some affiliate links. If you click on one of these links and purchase a product, relojes.wiki will receive a small commission (at no cost to you) that helps maintain the blog.
In today's mega guide, we will unveil some of the best solar wristwatches that can be obtained economically. But first, let's see the advantages of a solar watch.
The main advantage of these watches is that they can operate indefinitely without the need to change the battery, as they derive their energy from the sun or any available light source.
In fact, they can even do so in darkness, as they integrate batteries that store energy while there is light, capable of keeping the watch running for months without a single ray of light.
This brings some additional benefits, especially in the case of solar dive watches, as they never need to be opened to change the battery, ensuring their water resistance.
Moreover, modern solar wristwatches integrate a wide variety of functions that you can use as many times as you want without fear of draining the battery. In fact, some even come with Bluetooth and GPS.
When combined with the wide variety of affordable and quality solar watches available today, it's hard to resist adding one to your collection. In this post, we'll see which ones are the best.
✚ The best solar watches of 2023
In the following list, we'll present some of the best affordable solar watches that you can find in 2019. This selection takes into account not only the price but also the quality.
➤ Casio AQ-S810W-1AVEF Solar Watch
The AQ-S810W-1AVEF combines analog elegance with the multiple functions of a digital watch. It features a large mixed dial with luminous markers and hands, along with a small digital screen with LED backlight.
Don't be fooled by its affordable price, as this Casio watch, made of resin, can handle almost anything. In fact, it is water-resistant up to 100 meters.
In its digital facet, it incorporates a stopwatch, countdown timer, 5 alarms, LED backlight, and even the ability to display the time in numerous cities around the world.
Possibly one of the cheapest Casio solar watches available today, but that doesn't mean it's of lower quality.
➤ Citizen Eco-Drive BM8476-23EE
Citizen Eco-Drive watches are known for their solar-powered operation, storing energy in a highly efficient lithium battery that allows them to operate for 6 months to 1 year depending on the model.
In the case of the BM8476-23EE, it can operate for up to 6 months in complete darkness, although nobody will stay without light for that long, unless you're a vampire, but artificial light also works 🙂
In fact, according to the brand itself, their batteries are so efficient that after 20 years of use, they barely lose 20% of their effective charge. Therefore, we can consider them as watches with virtually no maintenance.
The BM8476-23EE is part of Citizen's collection of military watches, making it a watch prepared for action, as demonstrated by its water resistance of 100 meters.
While it may not be one of the best solar watches in the Eco-Drive range, we can still affirm that it's one of the best alternatives available in the affordable price range.
➤ Casio G-SHOCK GW-M5610-1ER
When we talk about Casio G-Shock watches, we're talking about all-terrain watches designed to withstand practically anything. If we add atomic timekeeping and solar charging to the mix, we get a machine that's hard to beat.
Indeed, the G-Shock GW-M5610-1ER is a technological marvel capable of automatically setting the time thanks to radio signals it receives from different atomic clocks distributed around the world.
But that's not all; it also operates on solar power and has all the functions you can expect from a digital Casio watch: stopwatch, countdown timer, 5 alarms, and even world time.
Of course, being a G-Shock, you won't have any problem wearing it during deep-sea dives, as it can withstand up to 200 meters of water pressure.
Adding its low price to the mix, we not only have one of the best solar watches available but also one of the most affordable.
However, it's worth noting that it has a vintage style, featuring the same square shape as those iconic G-Shock watches from the '80s, although it's undoubtedly unmatched in terms of performance.
➤ Timex Expedition Scout Solar
If you're looking for a versatile and affordable battle-ready watch, a Timex Expedition is always a great choice. But if we add solar charging to it, we're possibly talking about one of the best solar watches in the budget segment.
The Timex Expedition Scout Solar is a simple yet rugged and functional watch with a 40 mm stainless steel case and mineral crystal on top.
It features a military-style design that's also sporty, highlighted by its large dial with bold sword hands and large printed Arabic numerals for excellent legibility.
Being of a military type, it also has 24-hour markers around the dial, and at the 3 o'clock position, you'll find a date window that's always useful.
The solar charging provides it with a power reserve of four months when fully charged, and it's water-resistant up to 50 meters, making it an ideal watch for everyday wear.
➤ Seiko SNE031P1 Solar Watch
Seiko also offers some affordable solar watches that are worth more than their cost. A good example is the SNE525P1, a simple yet elegant stainless steel watch.
It is a compact watch, both in diameter and thickness, making it ideal for those who prefer smaller-sized timepieces.
But it's not all about elegance and simplicity; it also features a precise solar quartz movement for its price range.
Additionally, the dial is protected by hardlex, a type of hardened mineral crystal manufactured by Seiko that is more scratch-resistant than conventional mineral glass.
➤ Bering Slim Solar 14440-077
The Bering 14440-077 is a solar watch with a Danish design made with high-quality materials. It combines elegance, durability, and sustainability.
Externally, it is an ultra-slim watch made of brushed stainless steel with a mesh milanese strap and scratch-resistant sapphire crystal. Inside, it incorporates a modern solar quartz movement that charges with any type of light.
When combined with its affordable price range, it becomes one of the best solar wristwatches for those seeking design and quality without breaking the bank.
➤ Citizen Promaster Marine BN0150-10E
Citizen's Promaster Marine series is known for including some of the best solar dive watches available, as most of them incorporate the brand's Eco-Drive solar technology.
In the case of the BN0150-10E model, we have a true diver's watch ready to go into the depths at any time.
It meets all the requirements of ISO 6425 for divers, including features such as extra-luminous markers for visibility in the dark, a unidirectional bezel, and water resistance up to 200 meters, among other things.
When combined with the ability to work tirelessly thanks to solar power, we get a dive watch that can accompany us for a long time.
➤ Casio Pro Trek PRG-270-1ER
The addition of solar technology to mountain watches has been one of Casio's greatest successes. A clear example is the PRG-270-1ER, one of the best solar mountain watches available, both in terms of price and features.
Leaving civilization behind means you won't find many power outlets nearby. Having a watch that can be powered by solar energy is a great idea, especially if it comes with survival features.
The PRG-270-1ER does much more than just tell time; it's like a Swiss army knife watch that comes with various sensors to measure altitude, temperature, atmospheric pressure, and even a compass to keep you on track.
Of course, like everything manufactured by the Japanese brand, it is highly durable and can withstand any adventure with its adventurous owner. Thanks to solar charging, it can last for years without any maintenance.
➤ Citizen Aviator Chrono CA4210-16E
The Citizen CA4210-16E is an aviator-style military watch that features Eco-Drive technology and a chronograph function. You can use the chronograph as much as you want without worrying about battery drain, thanks to solar power.
It also boasts a power reserve of up to 270 days, meaning it can function for nearly a year when fully charged, even without exposure to light.
The case has a good size in terms of diameter and comes with three sub-dials for using the chronometer, checking the seconds, and displaying the time in a 24-hour format.
As for the materials, the case is made of stainless steel with a mineral crystal, and the strap is made of leather. It is also water-resistant up to 100 meters.
➤ Casio Lineage LCW-M170D-1AER
Casio not only produces XXL sports watches but also offers some dressy models like the Lineage series. These watches are elegant yet functional, often incorporating solar charging and radio frequency.
One of the most popular models is the LCW-M170D-1AER, an analog watch with a small digital display to access its numerous functions.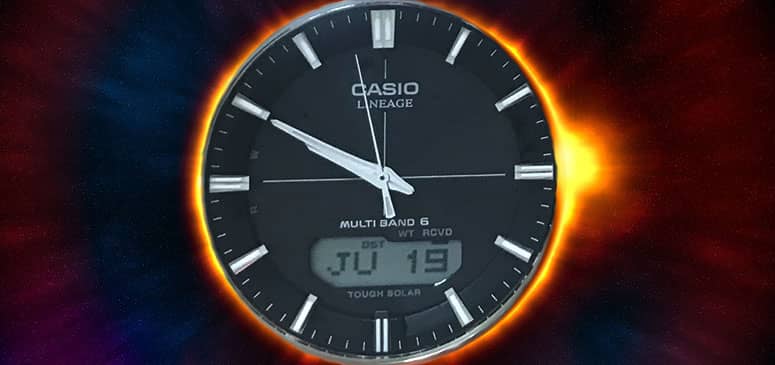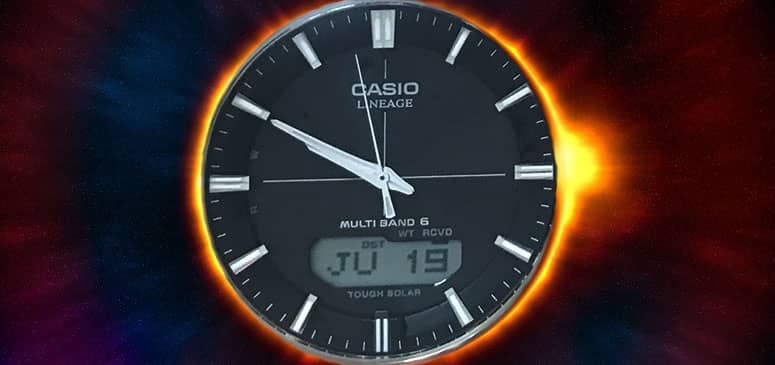 This Lineage not only sets itself automatically but also features a stopwatch, countdown timer, 5 alarms, LED light (on the entire dial), and world time.
It is constructed with stainless steel and has a sapphire crystal, making it highly scratch-resistant.
However, its water resistance is 50 meters, slightly lower than that of sports models, although it is still suitable for swimming.
➤ Seiko Solar SSB313P1
Lastly, one of Seiko's most striking solar wristwatches: the SSB313P1. This analog chronograph watch features a stainless steel construction with several sub-dials and an alarm function.
The SSB313P1 is entirely built with stainless steel, both the case and the strap, and incorporates a Hardlex crystal that is more scratch-resistant than standard mineral glass but not as durable as sapphire.
Inside, it features a precise Japanese solar quartz movement, the Seiko Quartz V172, which provides smooth sweeping hands—a feature not often seen in quartz watches.
Overall, it is a very robust watch in appearance and construction, and it has a water resistance of 100 meters.
➤ Garmin Fenix 6X Pro Solar
The Garmin Fenix 6X Pro is one of the best sports watches available today and, in addition to its wide range of functions (not limited to sports), it is solar-powered, resulting in an incredibly long-lasting battery.
As a digital watch, it focuses more on outdoor activities, so its 51mm titanium case and touchscreen are highly durable while remaining quite lightweight for its size.
Being a smartwatch, it offers all kinds of features beyond basic timekeeping, many of which are geared towards sports, but also for everyday use, such as Garmin Pay, music player, and much more.
In conclusion, the Garmin Fenix 6X Pro Solar is the perfect modern adventure watch for those who live for challenges. The only drawback is its price.
✚ Best Selling Affordable Solar Watches
Apart from our particular selection of the best solar watches, these are the ones that are usually top sellers. Timepieces that undoubtedly deserve more credit than their price suggests.
Last update of links and images on 2023-11-29.