This text may contain some affiliate links. If you click on one of these links and purchase a product, relojes.wiki will receive a small commission (at no cost to you) that helps maintain the blog.
Cadisen watches are attracting the attention of many far-east watch enthusiasts, but are they really worth buying? How good are they?
Cadisen is another of the Chinese watch brands that surprises with the quality of its designs, such as its famous model C1032, one of the most economical automatic watches with Seiko movement and sapphire crystal.
The company offers a wide variety of both automatic and quartz watches, although not all offer the same value for the money they cost.
Therefore, in this post we are not only going to reveal the origin of Cadisen watches, but also some of their best models and the opinions they generate among those who own them.
✚ Cadisen Watches: Origin and History
Cadisen watches are very popular in China where the brand was founded back in 2007. Since then it has grown to have more than 1500 stores on Chinese territory, although it is not yet well known outside the country.
In Europe, for example, they can only be obtained through the Internet, while in the USA the brand was registered in 2017 to sell watches and watchmaking components such as straps and movements.
The full name of the company is Shenzhen Cadisen Watch Industry Co., Ltd. and as its name suggests, it is based in Shenzhen, a city located in the southeast of China and belonging to the Guangdong region.
The company manufactures its watches in the same city, alongside other well-known Chinese brands such as Guanqin or Curren, although most of the country's watchmaking companies are distributed in cities of the same region.
✚ Are Cadisen brand watches good?
There are Cadisen watches for all tastes and budgets, although generally it is a brand that offers quite a lot of value for the money that their creations cost, especially in automatic models.
It is precisely in these mechanical designs where the firm often outperforms other Chinese brands in price, even using the same quality components, such as Japanese movements and stainless steel cases.
A good example of this is the Cadisen C-1030G, a model identical to the Guanqin GJ16106, as both pay homage to the Nomos Lambda, but much cheaper.
They even use the same Chinese movement, a PTS Hangzhou 2B00/2BA0, but in the C-1030G it is even better adjusted and offers a power reserve indicator more in line with reality.
Below you can see both watches, with their corresponding characteristics and images where the differences can be appreciated.
➤ Cadisen C-1030G Lambda
As can be seen in the image above, the power reserve indicator goes up to 42 hours, although in practice the watch has an even higher energy reserve, making it more accurate than its Guanqin counterpart.
The back is transparent in both, but the window is wider in the Cadisen and the movement is better worked, even with engravings on the pendulum.
➤ Guanqin GJ16106 Lambda
The Guanqin design is perhaps somewhat faithful to the model being paid homage to, thanks to the texts it carries on both sides of the dial, but the power reserve indicator is far below the actual energy it offers.
It is also somewhat more costly, so in general the Cadisen is more successful, as it uses the same components and improves some aspects.
In conclusion, Cadisen offers some of the best Chinese automatic watches that can currently be found, at a price that is usually lower than other Chinese brands, but also offers less expensive quartz watches.
✚ Best Cadisen Automatic Watches
Here are some of the best Cadisen automatic watches currently available for a price that has nothing to do with the actual value of their components.
➤ Cadisen Day Date C8185
Made entirely of stainless steel and powered by a precise and reliable Japanese automatic movement that is often used in much more expensive watches, the C8185 is one of the brand's most successful designs.
It also features sapphire glass, but undoubtedly the best thing is its price, especially if purchased from Chinese stores like Aliexpress.
➤ Cadisen C-1032G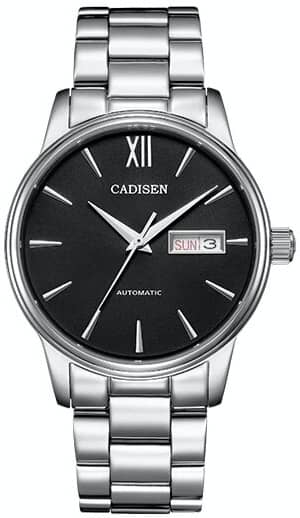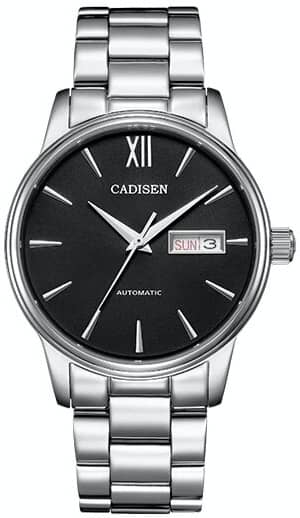 Another classic from the brand is the automatic model C-1032G, also entirely made of stainless steel with sapphire glass and Japanese movement.
In this case, the most used caliber is a Seiko NH36A, a 24-jewel movement with 21,600 alternations per hour, capable of accumulating up to 41 hours of power reserve.
➤ Cadisen C-8097G Sapphire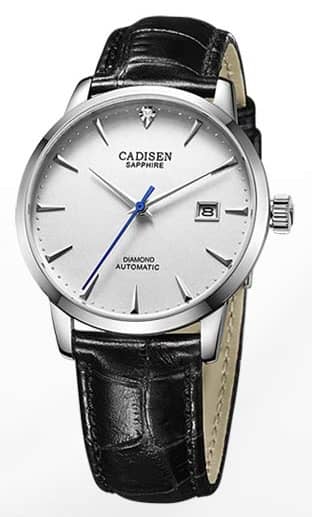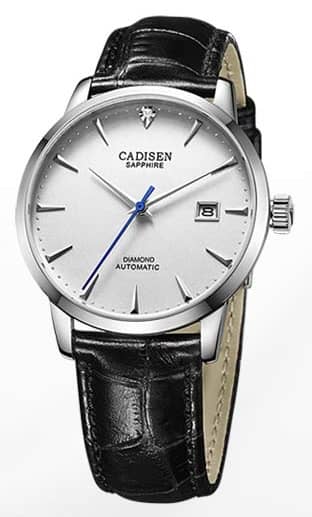 In a higher price range, the Chinese brand even offers watches with synthetic sapphire glass and a leather strap, as is the case with the Cadisen Sapphire.
A model made of stainless steel powered by none other than a Miyota 9015, a precise and reliable Japanese caliber that enjoys a very good reputation among watch enthusiasts.
✚ Prices and Opinions
Cadisen is a brand that makes watches in all price ranges, but it is their mechanical models that reap the best opinions, both for the materials they use and for their low cost.
The company also manufactures a large number of quartz watches, but it is in the automatic mechanical designs where they really make a difference from the competition.
Just by looking at the movements used in most of their automatic watches, one can realize that these are designs meant to keep time accurately for a long time.
Last update of links and images on 2023-11-29.