This text may contain some affiliate links. If you click on one of these links and purchase a product, relojes.wiki will receive a small commission (at no cost to you) that helps maintain the blog.
The Miyota 9015 movement, or caliber, is a Japanese automatic mechanism used by numerous mid-range watch manufacturers. It was first seen at Baselworld in 2010.
Internally, it features a unidirectional 24-jewel rotor, offering approximately 28,000 vibrations per hour and a power reserve of 42 hours.
According to the manufacturer, it is an evolution of the 8205 caliber and therefore includes many of its functions, such as the ability to stop the seconds hand by pulling the crown or manual winding.
The accuracy of the Miyota 9015 is estimated between -10 and +30 seconds per day, although when properly adjusted, it can achieve values of around ±5 seconds per day.
Cadisen C8097M
Diseño clásico de lujo: el reloj redondo amplía la función de la esfera de cristal de zafiro antirreflectante. El exquisito aspecto metálico...
Tiempo preciso: el movimiento automático de alta precisión se basa en el movimiento natural del brazo humano para garantizar una hora precisa sin...
Sumergible hasta 50 m: es muy adecuado para diferentes actividades comerciales, de ocio, de interior o diario, soporta salpicaduras de agua y sudor,...
El mecanismo mecánico Miyota 9015 es preciso y su diseño ultrafino es elegante y elegante.
Embalaje y servicio: este exquisito reloj mecánico automático viene en una caja exquisita, es un gran regalo para padres, maridos, novios y socios...
✚ Miyota 9015 Technical Specifications
| | |
| --- | --- |
| Brand | Miyota (Citizen) |
| Model | 9015 |
| Year of Manufacture | 2009 |
| Jewels | 24 |
| Vibration Frequency | 28,800 vph |
| Power Reserve | 42 hours |
| Dimensions | 26 mm x 3.90 mm (Diameter x Depth) |
| Accuracy | -10 to +30 seconds per day |
| Functions | Hour, minute, and second hands, and calendar |
| Hacking Seconds | Yes |
| Manual Winding | Yes |
✚ How does the Miyota 9015 work?
The Miyota 9015 is a unidirectional caliber with a rotor that operates on ball bearings. The mechanism includes a hacking system, manual winding, and a quick-change calendar.
Being unidirectional means that the mechanism can only be wound in one direction, although the movement features a shock absorber that makes it quite silent.
It also includes a Swiss-style anchor pallet fork and manual lift.
Overall, the 9015 offers a power reserve that can exceed 42 hours and an accuracy that, in capable hands (depending on assembly), can reach values of around ±5 seconds per day.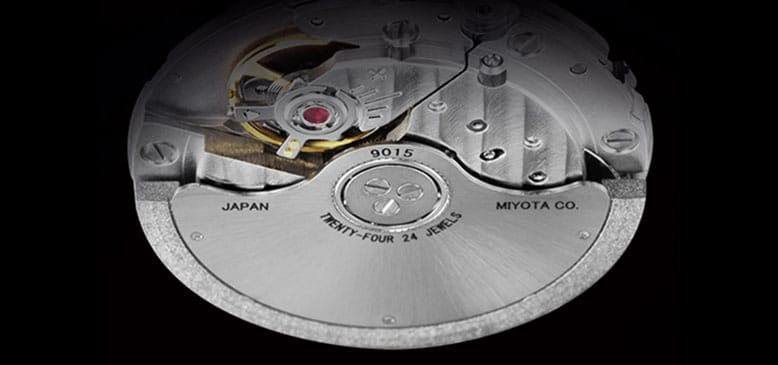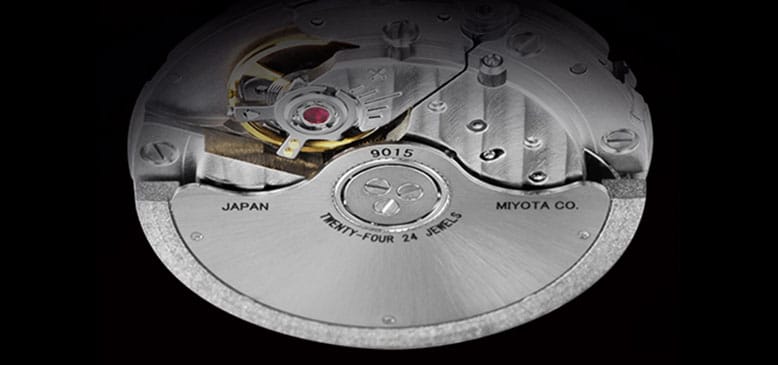 ✚ A bit of history about the caliber 9015
Miyota, owned by Citizen, introduced the Miyota 9015 to directly compete with the popular ETA 2824 caliber. Besides sharing a similar size, the ETA caliber offers similar features such as manual winding, date display, and three central hands.
ETA calibers are of Swiss origin and power many high-end watches that we know. The brand, currently owned by Swatch, has been manufacturing precise and reliable mechanisms since 1793.
The issue is that for the past 10 years, ETA has been aiming to stop supplying calibers to third-party brands to focus on Swatch. Although it is still unclear if they will definitively do so, the controversy caused has prompted brands to seek alternatives elsewhere.
This is where Miyota comes in, offering calibers that, although less prestigious, are equally reliable and, above all, much more affordable, such as the 9000 series.
Within the 9000 series calibers, we can find the 9015, as well as other calibers with functions and features that allow them to compete with ETA. These include the 90S5 caliber (a semi-skeletonized version of the 9015) and the 9100, featuring a power reserve indicator and a 24-hour display.
✚ Price and availability
Watches equipped with the Miyota 9015 are usually mid-range timepieces with a relatively affordable price. However, if you are looking for a replacement movement, the cost of the mechanism alone is considerably lower.
Currently, it is possible to find spare parts for this movement. Nevertheless, low-cost calibers can be a double-edged sword, as they are constantly evolving and may soon be discontinued in favor of a new model. This would leave the market without spare parts for the old model.
✚ Examples of watches with Miyota 9015
Below are some examples of watches that feature this caliber and are currently available in the market:

This text may contain some affiliate links. If you click on one of these links and purchase a product, relojes.wiki will receive a small commission (at no cost to you) that helps maintain the blog.
Relojes.Wiki participates in the Amazon EU and Amazon US Associates Program, an affiliate advertising program designed to provide websites with a means to earn advertising fees by advertising and linking to Amazon.es, Amazon.com and Amazon.co.uk
As an Amazon Associate, I earn from qualifying purchases.
More info.
Last update of links and images on 2023-11-29.