This text may contain some affiliate links. If you click on one of these links and purchase a product, relojes.wiki will receive a small commission (at no cost to you) that helps maintain the blog.
In this article, we will focus on the Ronda 515 caliber, a low-cost Swiss quartz movement that nevertheless offers excellent performance.
Not all calibers that come out of Switzerland are automatic or from the ETA brand. A good example of this is the Ronda movements, precise and durable quartz calibers found in numerous Swiss watches.
For example, we can find the Ronda 515 in Swiss watch brands like Hanowa, Wenger, or Luminox, among others. It is also used in some German brands like Junkers.
As a good quartz movement, the 545 is highly accurate, but it is also made of metal, making it robust and repairable, although due to its low cost, it is often replaced.
Next, we will delve into the characteristics of this caliber and explore some of the well-known watches that use it.
✚ Ronda 515 – Technical Specifications
| | |
| --- | --- |
| Brand | Ronda |
| Model | 515 |
| Series | Powertech 500 |
| Movement Type | Analog quartz |
| Jewels | 1 |
| Battery | 1.5 V |
| Estimated Battery Life | 45 months |
| Dimensions | 26.20 mm x 3 mm (Diameter x Depth) |
| Precision | -10/+20 sec/month |
| Functions | Hour, minutes, seconds, and calendar |
✚ A Brief History of Ronda
The history of Ronda begins in the Waldenburg Valley in southern Germany in 1944, where its founder, William Mosset, leaves his position at Oris to independently manufacture watch components.
Soon, the company grows, and on November 18, 1946, it moves to Lausen, Switzerland, where it transitions from manufacturing stems and levers to complete mechanisms.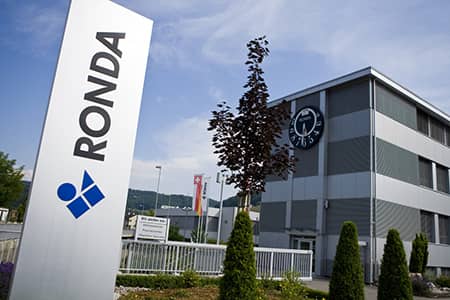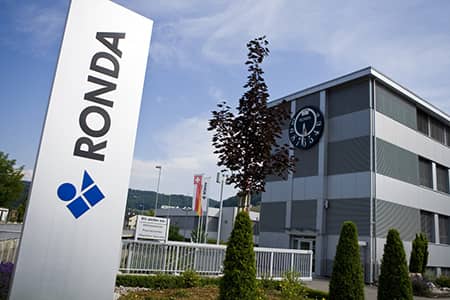 By 1971, the company already had more than 500 employees and several production buildings in different parts of Switzerland. However, unfortunately, that same decade would also be shaken by the quartz crisis.
Quartz movements were much more accurate and less expensive than their mechanical counterparts, but Ronda was not willing to be left behind. In 1974, they developed their first quartz movement.
Although it wouldn't be until the 1980s that quartz truly takes off, and the company definitively abandons its line of mechanical movements to produce quartz movements.
Competing with the growing pressure from Japanese manufacturers was not easy, and the company was forced to establish positions in the East.
By the 1990s, Ronda was already assembling part of its Swiss movements in countries like China, Hong Kong, or Thailand. It was during this time that their Powertech line was also born, which includes the Ronda 515 caliber we are discussing.
During this period, the company started using the terms "Swiss Made" and "Swiss Parts" to differentiate its Swiss movements manufactured on Swiss soil (Swiss Made) from its movements manufactured in the East using Swiss components (Swiss Parts).
In 2011, the company decided to resume manufacturing mechanical calibers due to the growing demand for these mechanisms. This decision culminated in 2016 with the presentation of the R150 automatic caliber at Baselworld.
Therefore, nowadays, Ronda not only manufactures quality quartz movements but also a few mechanical movements.
✚ How Does the Ronda 515 Caliber Work?
Basically, we have a simple but well-built Swiss quartz movement with metal parts and a Renata 371 battery, also of Swiss origin.
It is a three-hand and date stepping motor mechanism that can maintain a manufacturer-rated precision of -10 / +20 seconds per month. However, in practice, we all know that quartz watches are much more accurate.
The Ronda 515 is constructed with nickel-plated metal and has a jewel for proper functioning.
Its functions are limited to displaying the time and date, but it features an energy-saving system with a removable stem, allowing it to save 70% in power consumption.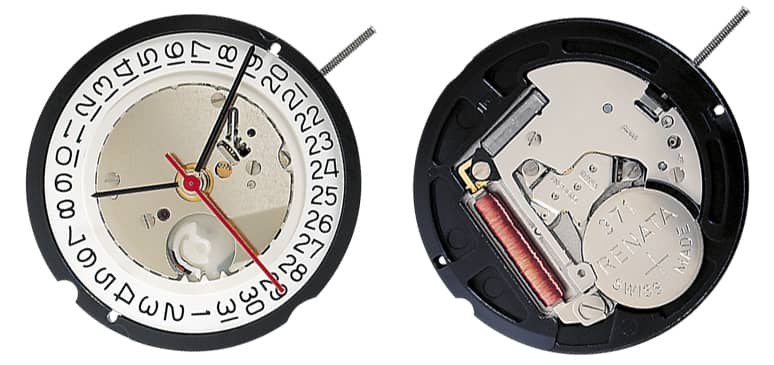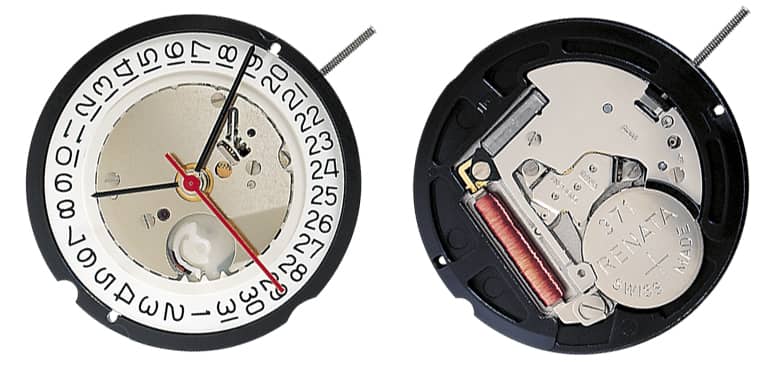 ✚ Ronda 515 vs. Ronda 715
The main difference with the Ronda 715 caliber lies in the battery life, as this movement has a autonomy of 60 months instead of the 45 months of the Ronda 515.
Additionally, the Ronda 715 has two versions: one nickel-plated with 1 jewel, manufactured in the East with Swiss components, similar to the 515, and another gold-plated version with 5 jewels, manufactured in Switzerland and of higher quality.
Apart from that, they are very similar, even in their dimensions, although the 715 is half a millimeter shallower.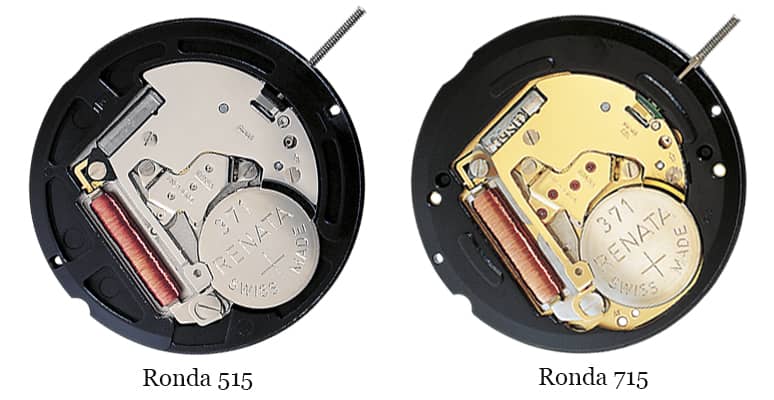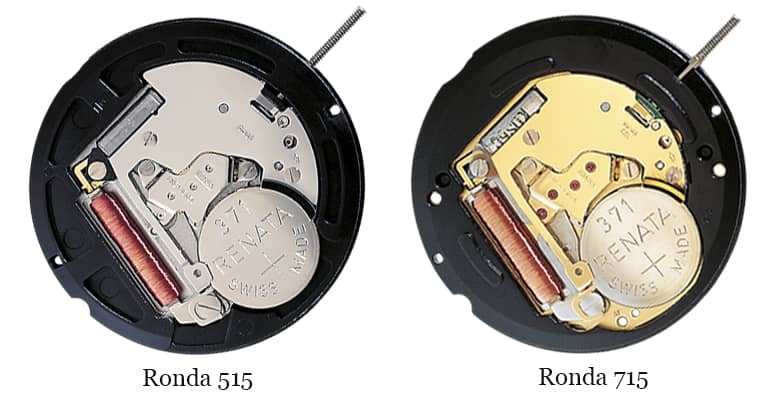 ✚ Examples of Watches with Ronda 515
As mentioned before, many Swiss and German quartz watches use the mentioned mechanism. Here are some of them:
➤ Hanowa Swiss Military
➤ Junkers Cockpit JU52
➤ Wenger Sport Avenue
➤ Stuhrling Professional Diver
Last update of links and images on 2023-11-29.