This text may contain some affiliate links. If you click on one of these links and purchase a product, relojes.wiki will receive a small commission (at no cost to you) that helps maintain the blog.
Today we will talk about Carnival watches, an affordable brand that offers some interesting automatic models known for their design and complications.
Carnival is one of the most well-known Chinese watch brands, thanks in part to the good finishes they offer, as well as their homage models.
It is precisely in those designs inspired by renowned brands where Carnival watches display their full potential, with more complex mechanisms and better materials.
In this article, we will not only reveal the origins of the brand but also analyze some of the best Carnival watches and the reviews they receive to determine if they are good.
✚ Carnival Watches: History and Origin
The origins of Carnival can be traced back to 1986 when the brand was founded in China. They initially started manufacturing watches with clear inspiration from classic Swiss designs.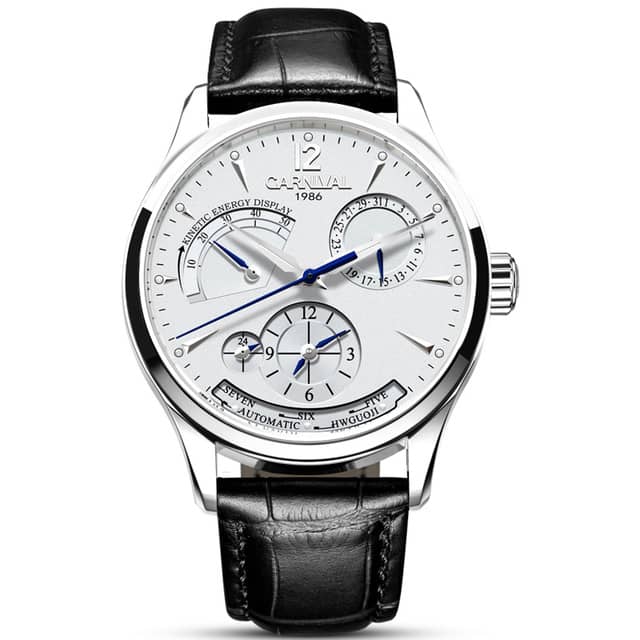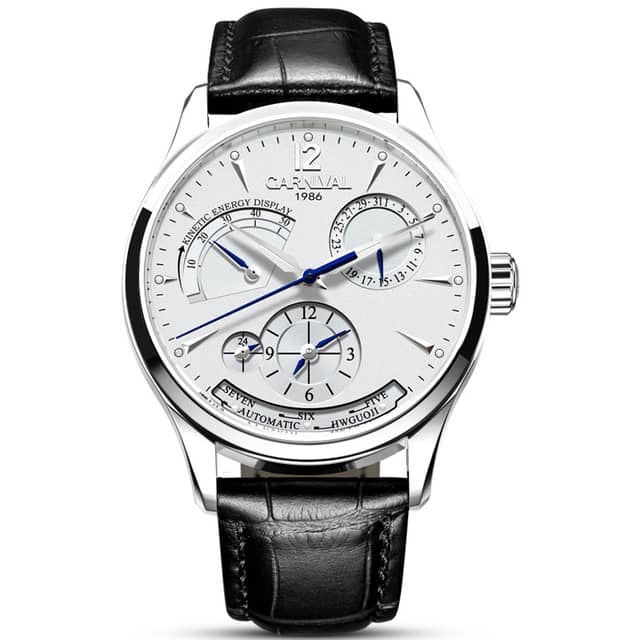 According to the brand's own advertising, their goal is to reinvent traditional watchmaking and create a legacy based on new classics that align with current trends.
Carnival also mentions the use of Swiss technology in the production of their watches, and their logo bears a resemblance to Omega's. However, they have no affiliation with Swiss components or integration.
Although there is limited information about this brand, it is known that its headquarters are located in the Baiyun District of Guangdong City, a well-known region in China for its watchmaking industry.
Chinese brands like Curren, Lige, Skmei, and Pagani Design also have their headquarters in this Chinese territory, situated in the southeast of the country along the South China Sea.
Regardless of their origin and the fact that they are not Swiss watches, Carnival manufactures watches with a higher level of finishing compared to many of its competitors. Let's see why.
✚ Are Carnival Watches Good?
Carnival produces watches of different qualities depending on the price range, although this brand tends to use good components even in their more affordable models.
To provide a general idea and determine if these watches are good, let's analyze each of these components separately. They are as follows:
➤ Case
Almost all Carnival watches use cases made entirely of stainless steel, which provides greater strength and durability.
Stainless steel is also a highly hypoallergenic material, making it unlikely to cause any allergic reactions when in contact with the skin.
Cheaper Chinese watches may use brass in their cases, an alloy of copper, zinc, and other metals that can cause allergies in more sensitive individuals.
➤ Crystal
The majority of Carnival watches use mineral crystal, a relatively hard material that offers good visibility but is not scratch-resistant.
In the brand's more expensive models, it is possible to find sapphire crystal, a much harder material (almost as hard as diamond) that is virtually scratch-proof.
➤ Dial
In general, the dials of these watches offer good contrast between the markers and the background, allowing for comfortable time reading. However, what's really interesting is that the brand offers models with tritium.
Tritium is a material that emits continuous light, allowing the hour markers to remain illuminated for years without the need for any external light source.
It is a radioactive material, but unlike other isotopes, tritium emits low-energy particles that cannot penetrate the watch crystal. When properly encapsulated in the markers, it poses no danger.
What's fascinating about radioluminescence is that it doesn't need to be charged with an external light source to glow brighter, as is the case with the fluorescent lume typically used on watch hands.
➤ Strap
Depending on the model, the strap can be made of leather or stainless steel. Stainless steel is a better option since, as mentioned earlier, it is a highly resistant and hypoallergenic material.
The brand's leather straps have a good appearance, but they are unlikely to be made of genuine leather given the low prices of these watches. Perhaps in more expensive models, but to be safe, it is recommended to choose stainless steel straps.
➤ Movement
Many Carnival watches feature Japanese movements, typically Miyota, a brand that enjoys a good reputation in the watchmaking world.
In automatic models, it is easy to identify them because most have a transparent case back, allowing the internal mechanism with the brand to be seen.
It is also possible to find some Chinese movements in the brand's more affordable mechanical watches, although they generally offer good performance as they are not the cheapest options.
✚ Best Carnival Watches
Carnival offers a wide range of watches of all kinds, but there are always some collections that stand out from the rest. Here are some of the most interesting ones:
➤ Carnival Ultra-Thin Watches
The brand has various thin watches with a case thickness of a few millimeters, especially quartz models, but also some automatic ones.
➤ Carnival Women's Watches
Special mention should also be given to Carnival's women's watches, of which the brand has numerous models, including small mechanical ones.
➤ Carnival Multifunction Watches
Carnival's mechanical watches usually come with various complications such as a 24-hour format, complete date display, or even a power reserve indicator.
➤ Carnival Tourbillon Watches
Obviously, due to their price, they are not authentic tourbillon watches, but rather open-heart models that display the mechanism through a window on the dial.
➤ Carnival Tritium Watches
As mentioned before, one of Carnival's most successful watches is the Tritium models, as it is one of the few brands that uses tritium to illuminate its dials, and it does so at a low cost.
✚ Prices and Reviews
On this occasion, we have a Chinese brand that offers a fairly good level of quality for the prices at which their watches are priced.
Just look at the positive reviews that all their watches have on platforms like Aliexpress to realize that they are doing things right.
It is true that they are not the cheapest Chinese watches, but they are not expensive either, and they have a very affordable price for what they offer.
Last update of links and images on 2023-11-29.