This text may contain some affiliate links. If you click on one of these links and purchase a product, relojes.wiki will receive a small commission (at no cost to you) that helps maintain the blog.
The tourbillon is an element that can greatly increase the value of a watch, yet few people know exactly what it is or what its purpose is.
In fact, these types of watches are often confused with those that display the balance wheel through a window on the dial, also known as "open-heart" watches.
But the tourbillon is an infinitely more complex and expensive piece, capable of giving a fascinating look to any mechanical watch thanks to its hypnotic movement.
In this post, we will reveal what exactly this microengineering masterpiece is and how it works, as well as take a look at its entire history.
Aesop Tourbillon
| | |
| --- | --- |
| Crystal | Sapphire |
| Movement | Mechanical |
| Caliber | Automatic with Tourbillon |
| Case Diameter | 42.5 mm |
| Case Thickness | 12 mm |
| Materials | Steel case and leather strap |
| Water Resistance | 3 ATM (30 meters) |
✚ What is a tourbillon?
The tourbillon is a mechanism found in some high-end mechanical watches whose mission is to counteract the adverse effects of gravity in order to improve their accuracy.
It is a mechanism that balances the most important parts of the watch to compensate for the deviations caused by continuous movements and changes in position.
✚ How does it work?
Inside a mechanical watch, the movement of the balance wheel is essential, as it sets the timing rhythm with each swing.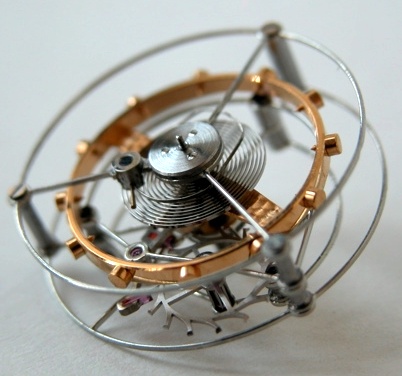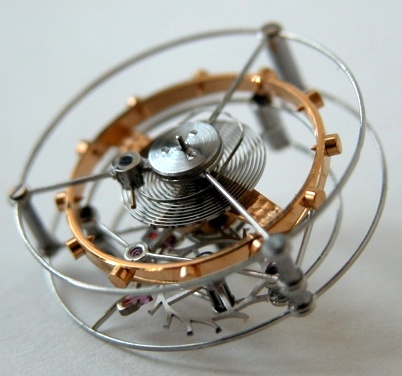 However, the force of gravity in different positions causes it to not always move at the same rate, especially when the mechanism is in a vertical position.
The tourbillon largely solves this problem by rotating the balance wheel at a constant rate along with other important components such as the escapement wheel, anchor, and hairspring.
It could be said that it is a kind of cage that rotates slowly on its axis, usually at a speed of 1 RPM, to compensate for the effects of gravity on the mentioned components.
In this way, all position errors and time variations they produce are averaged, thus achieving greater precision.
In this video, you can see a tourbillon watch in action:
✚ Tourbillon vs Open Heart
It is very common to confuse tourbillon watches with "open heart" watches, as both show part of the mechanism in operation through a window on the dial.
However, "open heart" watches only reveal the oscillation of the balance wheel, while in tourbillon watches, you can also see how it rotates on itself.
Above these lines, you can see an authentic tourbillon watch first and an open heart watch below.
As you can see, both provide a window to appreciate the moving mechanism, but only the first one will rotate the balance wheel.
✚ The tourbillon and its history
The word "tourbillon" (whirlwind in English) comes from France, the country where Abraham-Louis Breguet invented this intricate piece of watchmaking.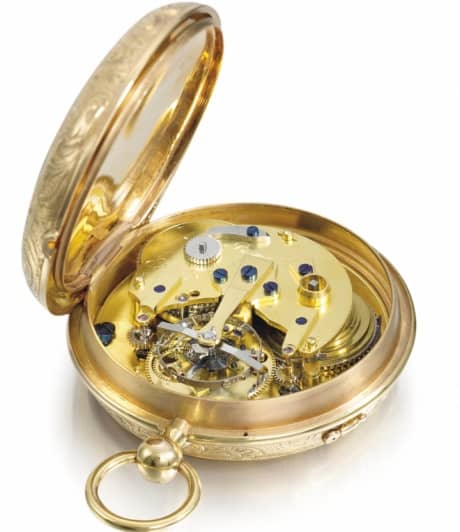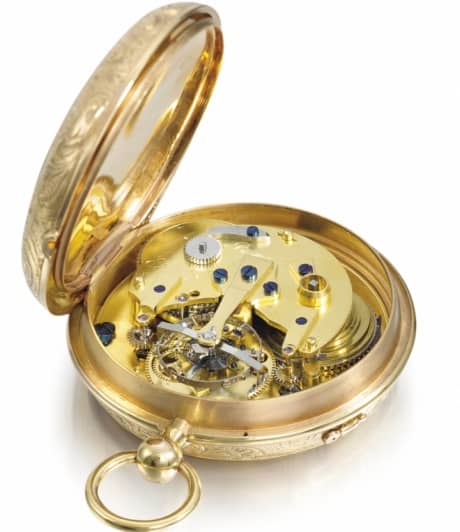 In the late 18th century, pocket watches were the most commonly used, and the preferred place to carry them was in the vest pocket, which kept them in a vertical position for a long time.
In this position, gravity had a strong effect on the mechanical movements of the time, which negatively affected their accuracy.
Breguet took on this problem and in 1795, after various studies linking gravity to the accuracy of watches, he designed the first tourbillon.
In 1801, he was granted the patent in Paris for 10 years, although his invention would not be fully operational until 1805, as evidenced by the different prototypes he created during this period with varying degrees of success.
In fact, between 1805 and the day of his death in 1823, he only managed to create 35 examples of the tourbillon, many of which ended up in the hands of aristocrats who coveted them for their complexity and rarity.
Even King George IV, the Prince Regent of England at the time, acquired one of Breguet's watches assembled on a bronze cone, and Napoleon used another one in his carriage.
After World War I, wristwatches replaced pocket watches, and the use of the ingenious mechanism became less necessary.
In mechanical wristwatches, the movement of the wrist itself fulfills the purpose of the tourbillon against the force of gravity, so it does not make sense to include it from a practical or functional point of view.
However, this did not prevent Breguet's invention from continuing to evolve and being integrated into luxury wristwatches as a complication worthy of admiration.
Today, it is still considered one of the most difficult mechanisms to assemble in a watch and is highly sought after for its design and complexity.
Inthe present day, many tourbillon watches are considered genuine works of art, with prices ranging from €2,000 to €500,000 depending on the brand and the complexity of the mechanism.
✚ Types of Tourbillon
Breguet's design remained largely unchanged until well into the 20th century, when new variations of this intricate mechanism came into play. Here are some of them:
➤ Flying Tourbillon
In 1920, Alfred Helwig, a German master watchmaker, introduced the first notable modification, a flying tourbillon that is supported by the cage at only one end.
While the original design fixed the tourbillon to the cage with a bridge that crossed from side to side, the flying tourbillon is only fixed on one side.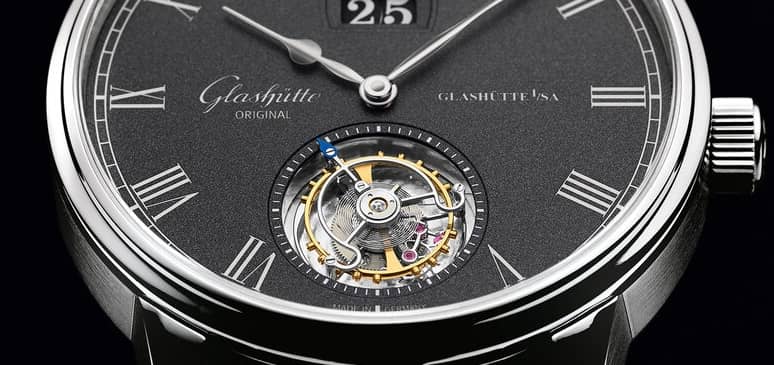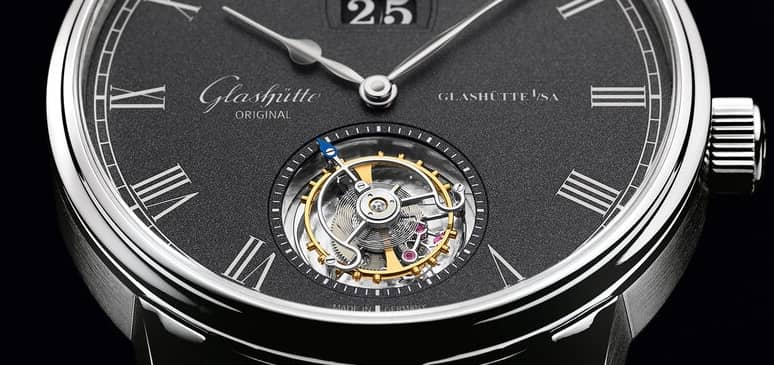 ➤ Double-Axis
Several decades would pass before Anthony Randall decided to take another turn with the invention and improve it with a double-axis system that he designed in 1977.
The invention was built a year later by Richard Good, and in 1980, it was assembled as a carriage clock, as it was a non-miniaturized device.
A double-axis tourbillon, as the name suggests, rotates the mechanism on two axes that complete one revolution per minute each.
In 2003, Randall's design inspired Thomas Prescher, a German watchmaker, who managed to miniaturize it and incorporate it into a pocket watch and just a year later into a wristwatch.
➤ Triple-Axis
Prescher is also credited with the first triple-axis or triaxial tourbillon, a constant-force mechanism capable of rotating on three different planes supported at a single end.
Therefore, it is also a flying tourbillon, which is extremely complex considering the number of movements the mechanism performs.
The design uses a system of counterweights to maintain balance when moving on the three axes. The rotation times are one minute for the first two axes and 60 minutes for the third.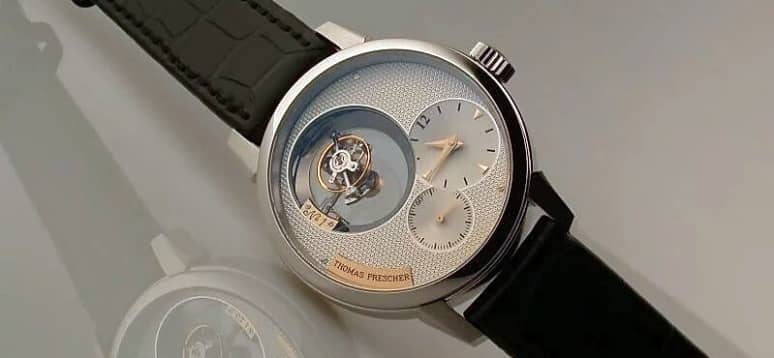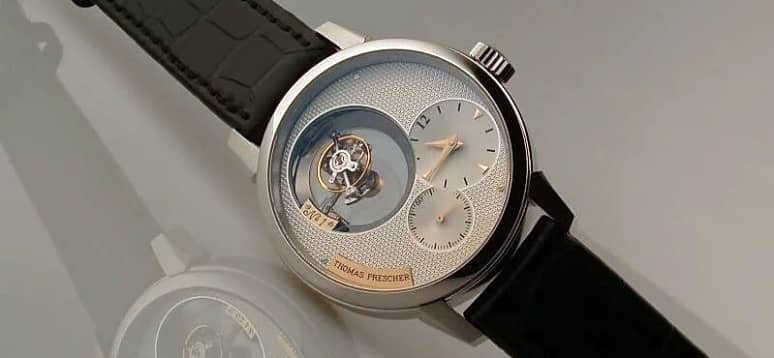 ➤ Double and Quadruple
Also, in 2004, the brand Greubel Forsey revolutionized the world of watchmaking with its design of the Double Tourbillon 30°, also known as DT30.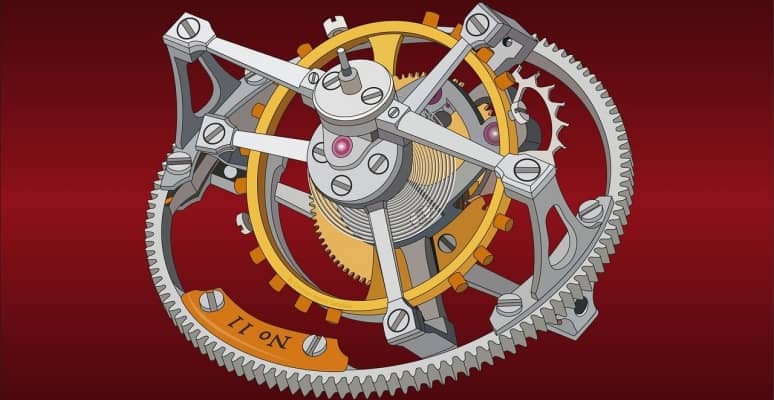 This watch features two different tourbillons, the first completing one rotation per minute at a 30° inclination, and the second rotating every 4 minutes.
Just a year later, in 2005, they took another twist with the design and introduced the "Quadruple Tourbillon à Différentiel" or QDT, a mechanism that uses 2 independent double tourbillons.
This text may contain some affiliate links. If you click on one of these links and purchase a product, relojes.wiki will receive a small commission (at no cost to you) that helps maintain the blog.
Relojes.Wiki participates in the Amazon EU and Amazon US Associates Program, an affiliate advertising program designed to provide websites with a means to earn advertising fees by advertising and linking to Amazon.es, Amazon.com and Amazon.co.uk
As an Amazon Associate, I earn from qualifying purchases.
More info.
Last update of links and images on 2023-11-30.