San Martin watches have firmly established themselves in the mid-range watch market, offering quality, reliability, and style at an affordable price. But are they really worth it?
The brand has managed to capture the attention of watch enthusiasts through improved quality control and components that are not found in other Chinese watch brands.
However, several essential questions arise: What is the origin of this rising brand? What sets it apart from its competitors? And most importantly, does it really deliver on its promises?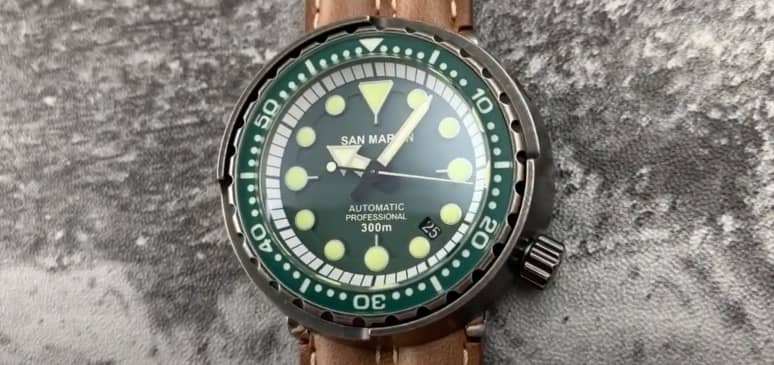 In this article, we aim to delve deep into the history of San Martin watches, analyzing their origin, evolution, and core principles.
We will also take a closer look at the quality and design of these watches, two essential aspects that define any watch brand.
To complete our exploration, we will share user opinions of these watches and provide our own assessment of the brand.
Through a detailed analysis, we hope to provide a comprehensive guide for anyone interested in learning more about San Martin watches and determining if they are a viable option.
✚ San Martin Watches: History and Origin
San Martin watches have their origins in the dedication and passion for watchmaking of their founder, Liao Jia Ming.
This dream took shape in 2016 in Zhongshan, located in the Guangdong province of China, where it started with a team of just three people.
From the very beginning, the original plan of the brand was to reproduce the designs of renowned foreign watch brands, but with a special focus on quality.
Long before being called San Martin, the company was already involved in modifying and selling Seiko watch mods in 2002, so adapting to the change was not too difficult.
In 2017, San Martin relocated to the city of Dongguan, known as the home to numerous watch manufacturers. Brands like Steeldive, Curren, and Pagani Design also have their headquarters here, for example.
It is at this point that San Martin further develops its technique and collaborates with the Watch Design Institute of Chongqing University.
Thanks to this collaboration, they have been able to register 2 technical patents regarding the internal components of their watches and 8 design patents.
In 2018, the company achieves a milestone by producing its first watch with a Damascus finish, emulating the striking patterns of the famous knife steel.
Finally, in 2019, they launch their own online sales portal to market their watches, although they still maintain their store on AliExpress with similar or even better offers.
✚ Are San Martin Watches Good?
The precision and craftsmanship with which San Martin watches are made are notable. From their polished finishes to their sharp and angular corners, every detail is carefully attended to.
In terms of design, it can be seen that the inspiration comes from renowned brands, but San Martin adds its distinctive touch. They pay homage to well-known brands such as Rolex, Tudor, Omega, Seiko, and many others.
It is also worth highlighting the components used in these watches, such as sapphire crystals, stainless steel cases and bracelets, and even ceramic bezels. Let's look at them in detail:

Case: generally made of 316L stainless steel, which guarantees durability and resistance to wear. They also have a screw-down case back and crown to ensure water resistance. Some models even feature a Damascus finish.
Crystal: equipped with scratch-resistant sapphire crystals, many of them also have an anti-reflective coating, which ensures good visibility.
Bezel: the diving models feature a 120-click unidirectional bezel with luminous markers. They also often include ceramic inserts, which add a touch of sophistication and durability to the design.
Lume: many San Martin models feature high-quality Swiss Super-LumiNova C3 lume to ensure legibility in low-light conditions.
Bracelets: the bracelets are generally made of stainless steel, with solid and sturdy links. However, you can also find models with leather and fabric straps, both of good quality, resistant, and flexible.
Water Resistance: the water resistance of San Martin watches usually ranges from 200 to 300 meters, making them suitable for various water activities.
Finally, unlike other Chinese brands, this company subjects each piece to rigorous quality control, resulting in more durable and reliable watches.
This attention to detail is evident not only in durability but also in the design, with better-aligned markers and bezels, and in general, with any other visual defect that may arise during the manufacturing process.
In conclusion, we are talking about watches with a manufacturing quality well above average. However, it is important to note that their price is slightly higher than that of other similar Chinese brands, such as Steeldive.
✚ Available Movements
Special mention should be made of the movements used in San Martin watches, both for their variety and the quality of the brands chosen by the company.
At San Martin, this aspect is not taken lightly. Movements are the central pieces that drive the functionality and precision of each watch, so it is essential that they are of high quality.
Let's explore the types of movements that are usually included in their watches:
➤ SW200
The SW200 is a Swiss automatic movement from Sellita. It is very popular in the watch industry due to its reliability and precision.
With a power reserve of approximately 38 hours, this 26-jewel automatic movement is a reliable and efficient choice.
Some San Martin models equipped with this movement include those from the SN007 series.
➤ PT5000
The PT5000 is another automatic movement commonly used by the brand. Produced by the Chinese brand H.K. Precision Technology, this movement has proven to be a solid and reliable option.
It is often compared to the famous Swiss automatic movement ETA 2824-2, as it shares many of its specifications and features.
➤ YN55
Sometimes they also use the YN55 movement, an unsigned Japanese automatic mechanism, but known to be produced by Orient and equivalent to their F6922 model.
With its 40-hour power reserve, the F6922 is one of the most used movements by Orient and highly appreciated for its robustness and precision.
➤ NH35
San Martin also uses the famous NH35, a Japanese automatic movement manufactured by Seiko and equivalent to the brand's 4R35 caliber.
Known for its robustness and durability, this movement has a power reserve of approximately 41 hours and is very easy to maintain.
➤ Swiss Ronda 6004 and Swiss Ronda 715
For some of their quartz watches, the company opts for movements from Ronda, a Swiss brand known for its quality. Specifically, the Ronda 6004 and 715 movements are popular due to their precision and reliability.
➤ Miyota 9015
Finally, some models also incorporate the Miyota 9015 movement, manufactured by the Japanese company Citizen, known for its higher vibration frequency of 28,800 vph.
A higher frequency makes the sweeping motion of the hands even smoother than usual in a mechanical watch. It also has a power reserve of 42 hours.
---
In summary, the company uses a wide variety of movements in their watches, but all of them are well-known and have a good reputation.
Each option has its own set of advantages and characteristics, providing a variety of choices for watch enthusiasts.
✚ Best San Martin Watches
➤ San Martin SN0017

The San Martin SN0017 is the perfect complement for any diving or nautical enthusiast, and it's needless to say which watch it is inspired by.
This model features scratch-resistant sapphire crystal, an automatic mechanical NH35 movement, and is entirely made of stainless steel, with a screw-down case back and crown.
All of this makes it water-resistant up to 200 meters, making it a perfect ally for underwater adventures.
Specifications
| | |
| --- | --- |
| Crystal | Sapphire |
| Movement | Automatic Mechanical |
| Caliber | NH35 |
| Case Diameter | 40.5 mm |
| Case Thickness | 13 mm |
| Materials | Stainless Steel |
| Water Resistance | 20 ATM (200 meters) |
➤ San Martin Flieger SN0030

The SN0030 is an aviator-style watch with an elegant classic design, also featuring sapphire crystal and a robust 39mm stainless steel case.
It can be obtained with either the Seiko NH35 caliber or the mentioned Orient YN55A, depending on the model, and its water resistance is also 200 meters, allowing it to withstand even the toughest conditions.
Specifications
| | |
| --- | --- |
| Crystal | Sapphire |
| Movement | Automatic Mechanical |
| Caliber | NH35 / YN55A |
| Case Diameter | 39 mm |
| Case Thickness | 12 mm |
| Materials | Stainless Steel |
| Water Resistance | 20 ATM (200 meters) |
➤ San Martin SN0004

For those seeking a military-style watch, the SN0004 is an option to consider. Its design strongly resembles the classic Rolex Milsub, albeit with some variations.
Its sapphire crystal and 38mm stainless steel case provide unparalleled robustness. Additionally, it features an automatic NH35 caliber and 20 ATM water resistance.
Specifications
| | |
| --- | --- |
| Crystal | Sapphire |
| Movement | Automatic Mechanical |
| Caliber | NH35 |
| Case Diameter | 38 mm |
| Case Thickness | 13 mm |
| Materials | Stainless Steel |
| Water Resistance | 20 ATM (200 meters) |
➤ San Martin SN021

For exploration and adventure enthusiasts, the SN021 is the perfect automatic watch, as it is inspired by the legendary Rolex Explorer.
Made of stainless steel with a 37mm case, it is as comfortable as it is durable, and it also features scratch-resistant sapphire crystal. It is also water-resistant up to 100 meters.
This watch is available with either the PT5000 or SW200 caliber, although the latter makes it considerably more expensive due to its renowned Swiss movement.
Specifications
| | |
| --- | --- |
| Crystal | Sapphire |
| Movement | Automatic Mechanical |
| Caliber | PT5000 / SW200 |
| Case Diameter | 37 mm |
| Case Thickness | 11.3 mm |
| Materials | Stainless Steel |
| Water Resistance | 10 ATM (100 meters) |
➤ San Martin SN0088

The SN0088 is inspired by classic dive watches, more specifically the iconic Omega Seamaster, an essential accessory for any sea lover.
It is entirely made of stainless steel, with a solid bracelet and a 42mm case suitable for most wrists. In addition, it features scratch-resistant sapphire crystal for added durability and visibility.
With an automatic YN55 movement manufactured by Orient, reliability is guaranteed, and its water resistance of 200 meters makes it perfect for any underwater adventure.
Specifications
| | |
| --- | --- |
| Crystal | Sapphire |
| Movement | Automatic Mechanical |
| Caliber | YN55 |
| Case Diameter | 42 mm |
| Case Thickness | 13.5 mm |
| Materials | Stainless Steel |
| Water Resistance | 20 ATM (200 meters) |
➤ San Martin SN0003 Bronze Tuna

If you love large and robust watches, the SN0003 is for you. This impressive automatic watch features a stainless steel case measuring a whopping 47.5mm, not suitable for every wrist.
It also incorporates the Seiko NH35 caliber and sapphire crystal. Furthermore, it boasts an impressive water resistance of 300 meters, making it perfect for diving enthusiasts.
Specifications
| | |
| --- | --- |
| Crystal | Sapphire |
| Movement | Automatic Mechanical |
| Caliber | NH35 |
| Case Diameter | 47.5 mm |
| Case Thickness | 15 mm |
| Materials | Stainless Steel |
| Water Resistance | 30 ATM (300 meters) |
✚ Prices and Reviews
In general, the reviews of San Martin watches are quite positive. Users appreciate the excellent value for money that these watches offer.
Some highlighted points include the durability and resistance of the materials, the precision of the movements, and the attractive aesthetics of the designs.
Of course, there are some criticisms. Some users have mentioned that the designs often imitate those of more famous brands, which could be a downside for those seeking something more unique.
However, for those who appreciate the aesthetics of luxury watches but cannot or do not want to pay the high prices, San Martin watches are an excellent choice.
---
After analyzing the history, quality, and reviews of San Martin, we can conclude that they are a reliable and affordable option for those looking for quality watches without spending a fortune.
The brand has shown its commitment to quality by using durable materials and precise movements in their watches. Additionally, the large number of positive user reviews supports the quality of their products.
Ultimately, if you are looking for a high-quality watch with an attractive design at a reasonable price, San Martin watches should definitely be considered.
This text may contain some affiliate links. If you click on one of these links and purchase a product, relojes.wiki will receive a small commission (at no cost to you) that helps maintain the blog.
Relojes.Wiki participates in the Amazon EU and Amazon US Associates Program, an affiliate advertising program designed to provide websites with a means to earn advertising fees by advertising and linking to Amazon.es, Amazon.com and Amazon.co.uk
As an Amazon Associate, we earn revenue from qualifying purchases.
More info.
Last update of links and images on 2023-09-25.