This text may contain some affiliate links. If you click on one of these links and purchase a product, relojes.wiki will receive a small commission (at no cost to you) that helps maintain the blog.
The Seiko SKX007 is arguably one of the most iconic diver's watches from the Japanese brand, offering compelling features at an attractive price point.
This is a mechanical automatic watch with ISO 6425 certification (water-resistant up to 200 meters) and a highly visible dial filled with high-quality luminescent material.
These qualities make it not only aesthetically appealing but also practical for its intended purpose: diving.
Unfortunately, the SKX series ceased production in 2018, making it one of the most sought-after discontinued Seiko watches.
Luckily, there are still some units available for purchase of this magnificent Seiko SKX007, and if not, you can always consider the similar SKX009 model.
In this article, we will describe each of the features of the Seiko SKX007 and how it operates. Let's get started!
¡OFER! -5%
Top Sales
✚ Seiko SKX007 – Technical Specifications
| | |
| --- | --- |
| Brand | Seiko |
| Model | SKX007 |
| Crystal Type | Hardlex |
| Materials | Stainless Steel 316L |
| Diameter | 42.5 mm |
| Thickness | 13.25 mm |
| Strap Width | 22 mm |
| Lug to Lug Length | 46 mm |
| Movement | Japanese Automatic |
| Caliber | Seiko 7S26 |
| Power Reserve | ~ 41 hours |
| Precision | -20 ~ +40 seconds per day |
| Water Resistance | 200 meters (ISO 6425) |
| Bezel | Unidirectional Rotating 120 Clicks |
| Complications | Date with Day of the Week and Quick Set |
| Other Features | Screw-down Crown and Screw Case Back |
✚ A Bit of History
The Seiko SKX007 may have a modest price, but it is part of a large collection of diver's watches dating back to 1965 when Seiko introduced the model 6217, which was water-resistant up to 150 meters.
Since then, Seiko has introduced a wide range of diver's watches, from the iconic reference 6105 in production until 1977 (the famous watch worn by Martin Sheen in Apocalypse Now) to their more professional models like the Pro Diver with 600 meters water resistance from 1975.
The direct predecessor of the SKX007 is the Seiko 7002, which is very similar and shares the same 200 m water resistance rating. It was in production until 1996 when it was finally replaced by the SKX007.
Currently, the Seiko SKX007 is discontinued, which is a shame because it was a great entry point into the world of Seiko diver's watches.
In fact, for a long time, it was the best entry point into professional diver's watches in general. An authentic mechanical diving watch that met ISO standards.
Fortunately, there are still some units available for sale, although they are highly sought after and may not be as affordable as when the watch was in production.
✚ Design and Features
In terms of design, the Seiko SKX007 is a display of functional minimalism, as there is nothing superfluous or without a clear purpose on any aspect of the watch.
Each component is functional and durable. Let's go through each of them separately:
➤ Case and Crown
The case of the Seiko SKX007 is made from a solid and sturdy block of stainless steel, well-crafted as in all Seiko watches, and features rounded sides that gracefully rise to form the crown guard.
It measures about 42.5 mm wide by 13.25 mm high. However, on the wrist, it appears smaller due to its lug-to-lug length of only 46 mm, making it suitable for individuals with smaller wrists.
The sides and top of the case are polished and brushed. It also has an unusual curved downward shape, a design feature seen in many Seiko diver's watches.
On the case's back, you can see a central pattern of ocean waves in relief along with basic watch information, which is engraved around it.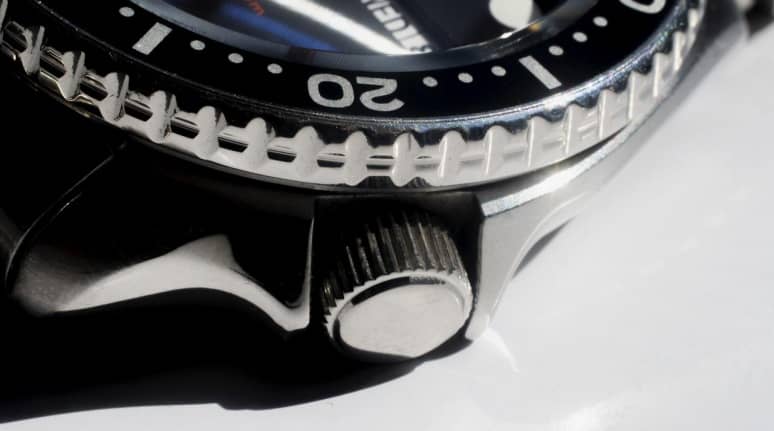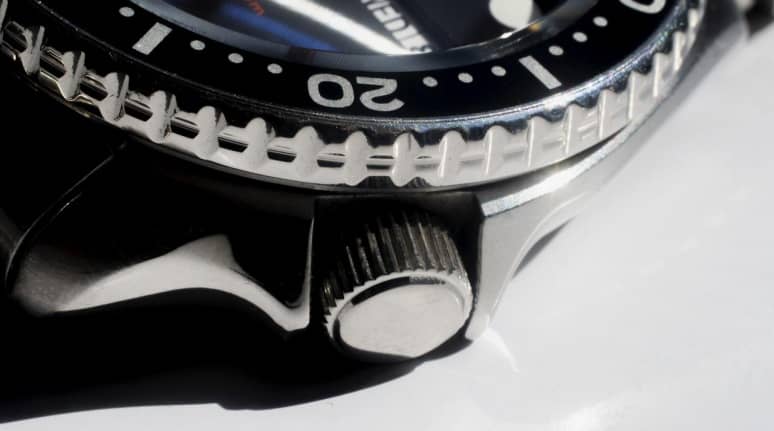 At 4 o'clock, there is a crown that is strongly protected by the protrusions coming from the case. It is not signed but is screwed down to prevent water ingress.
Due to the strong crown protection, it is not easy to rotate, especially with wet fingers, but it is effective for setting the time and date.
Overall, the case of the Seiko SKX007 offers a water resistance of 200 meters, confirmed by ISO certification, making it recognized as a "true diver's watch."
➤ The Bezel
In this aspect, we have the classic 120-click unidirectional bezel, which is standard for diver's watches like the Seiko SKX007.
It rotates in half-minute increments and is one of the many areas where this watch demonstrates its quality despite its minimal cost.
Design-wise, it is a tall bezel with 2 rows of teeth, making it easy to grip and maneuver. On the sides, it is polished and shines brightly with its silver finish.
There is quite a bit of space between the bezel and the case, perhaps more than there should be. It does not grip tightly and protrudes a bit, making it easy to move, maybe too much in certain situations.
The insert is made of black-painted aluminum with dotted silver minute markers, vertical lines every 5 minutes, and numbers every 10 minutes. At 12 o'clock, there is a silver triangle with a luminescent dot in the middle, the only luminescent element on the bezel.
➤ Dial and Crystal
The dial is matte black with large white hour markers of various shapes: triangles at 12 o'clock, rounded rectangles at 6 and 9 o'clock, and dots at other hours, all filled with luminescent paint.
The inscription "DIVERS 200" in orange stands out, as well as the white-framed date window, which matches the markers and also displays the days of the week.
The minute and hour hands are silver, thick, and also filled with abundant luminescent material, while the seconds hand is white with a black counterweight that ends in a circle with more lume.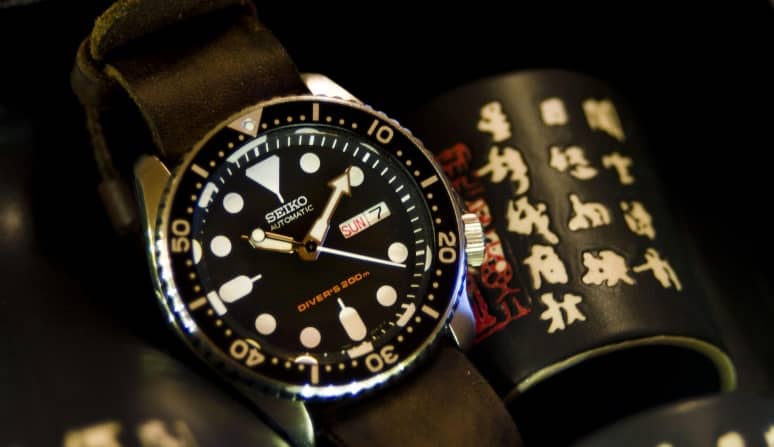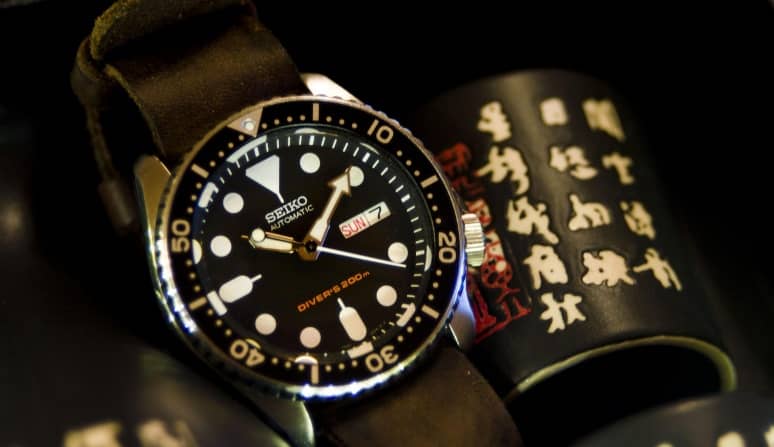 The dial is modest but functional, with all elements being highly luminous in the dark. Seiko diver's watches are known for the excellent quality of their luminescence.
As for the crystal, the SKX007 uses Hardlex, a type of hardened mineral glass patented by Seiko, which is theoretically difficult to scratch but falls short of sapphire in terms of hardness.
The reason for this choice is that mineral glass is more resistant to shattering as it is not as hard as sapphire, which is difficult to scratch but more fragile and prone to cracking under strong impacts or high pressure.
➤ The Bracelet
Like the rest of the watch, the bracelet is made of stainless steel and is of the Jubilee style. It does have a certain jingle, like most steel bracelets at this price level, but it is quite comfortable.
However, do not expect a diver's extension to use it with a wetsuit, as the SKX007 typically does not include one in any of its versions with a steel bracelet, but this cannot be criticized given its cost.
If you plan to dive frequently with the watch, you may be more interested in getting the version that includes a rubber strap. It may not be as elegant, but it is a much better option for getting wet.
➤ The Movement
In the history of watchmaking, few movements have matched the Seiko 7S26 in terms of construction quality, affordability, and performance.
It was first introduced in 1996 and is still used in some of the brand's watches. So don't be surprised if your SKX007 lasts 15 years or more without maintenance.
Obviously, due to its nature as a low-cost movement, some sacrifices had to be made, such as the lack of manual winding and hacking, which means the second hand cannot be stopped.
What does this imply? Not much, really. When the watch stops, a gentle shake gives it enough energy to start running again, and manual winding is not really necessary.
This is largely due to Seiko's Magic Lever system, which allows the movement to wind quickly and the rotor to rotate in any direction, whether left or right.
As for the second hand not being able to stop, it's only a concern if you want to set the watch to be precise to the second.
The 7S26 caliber's beat rate is 21,600 bph and it has 21 jewels, with up to 41 hours of power reserve when fully wound.
Regarding the precision of this movement, the manufacturer rates it around -20 to +40 seconds per day, which in practice is often much more accurate.
With proper adjustment, it can easily achieve ±5 seconds per day and generally comes pre-adjusted from the factory.
Visually, the 7S26 is not designed to be attractive, but rather to be robust and economical, which is exactly what the SKX007 needs. It also features a solid case back and does not display the movement.
✚ Price and Reviews
With the SKX007, you have a genuine diver's watch, functional, and deeply connected to Seiko's history. It is a simple yet robust device that can fulfill its mission for many years.
It is also an iconic watch in terms of fashion, with a wide range of accessories such as straps, bezel inserts, etc., allowing for customization according to personal preferences.
At its time of release, it was quite affordable, around €150 approximately, but nowadays it may be more expensive due to the decreasing availability.
Nevertheless, even today, it remains a great alternative to luxury diver's watches that may be too expensive and elaborate to wear in the water without worries. It's a shame that it is no longer in production. The best always seem to leave too soon.
This text may contain some affiliate links. If you click on one of these links and purchase a product, relojes.wiki will receive a small commission (at no cost to you) that helps maintain the blog.
Relojes.Wiki participates in the Amazon EU and Amazon US Associates Program, an affiliate advertising program designed to provide websites with a means to earn advertising fees by advertising and linking to Amazon.es, Amazon.com and Amazon.co.uk
As an Amazon Associate, I earn from qualifying purchases.
More info.
Last update of links and images on 2023-11-29.