This text may contain some affiliate links. If you click on one of these links and purchase a product, relojes.wiki will receive a small commission (at no cost to you) that helps maintain the blog.
The Steeldive 1970 Captain Willard is an automatic dive watch that has gained popularity in recent years, especially in the diving watch collector community.
This watch, also known as the "Captain Willard," is a reinterpretation of the famous Seiko 6105-8110, worn by the Captain Willard character in the movie "Apocalypse Now."
In this article, I will thoroughly analyze the features and qualities of this watch and share my honest opinion on whether it's worth acquiring.
Specifications
Correa y caja de acero inoxidable: la correa sólida de acero inoxidable es más pesada que otras correas y también es más fuerte y duradera....
Mecanismo: movimiento automático japonés NH35, dispositivo de parada de segundo, bobinado automático bidireccional, 41 horas de almacenamiento de...
Resistente al agua hasta 200 metros: nuestro reloj es resistente al agua hasta 200 m, adecuado para nadar y bucear, y el reloj también es resistente...
Reloj luminoso: verde C3 y azul BGW9 súper luminoso. Luz de larga duración en el ambiente oscuro, los relojes de pulsera luminosos te permiten...
Regalo para ti: relojes de pulsera para hombre, regalo perfecto para festivales, familiares y reuniones. Reloj de acero inoxidable para graduación,...
✚ Steeldive 1970 – Technical Data
| | |
| --- | --- |
| Brand | Steeldive |
| Model | SD1970 |
| Crystal type | Sapphire |
| Materials | Stainless steel |
| Diameter | 44 mm |
| Thickness | 13.5 mm |
| Strap width | 20 mm |
| Lug to lug length | 46 mm |
| Movement | Japanese automatic |
| Caliber | Seiko NH35 |
| Power reserve | ~ 41 hours |
| Accuracy | +/- 20 seconds per day |
| Water resistance | 20 ATM (200 meters) |
| Bezel | Unidirectional rotating 120 clicks |
| Complications | Quick-set date |
✚ Steeldive 1970 Watch Video
Before anything else, if you don't feel like reading, here you can watch the watch in video along with all the information and tests performed with it:
✚ About Steeldive
Steeldive is a relatively young and emerging Chinese watch brand, founded in 2018 in Guangdong, dedicated to the manufacturing and distribution of quality watches at affordable prices.
The brand has quickly gained popularity in the watch community thanks to its attractive designs, build quality, and excellent value for money.
Steeldive's philosophy focuses on creating robust and reliable watches, using high-quality materials and mechanical movements from well-known Japanese manufacturers.
Furthermore, the brand strives to maintain competitive prices, making it an attractive option for watch enthusiasts and divers looking for an affordable alternative to more expensive and established brands in the market.
You can find more information about the company at this link: https://relojes.wiki/en/steeldive/
✚ Design and Aesthetics
➤ Case and Crystal
The Steeldive 1970 Captain Willard features a 316L stainless steel case with a 44mm diameter and a thickness of 13.5mm.
Despite being a considerably sized dive watch, its curved case design and short lugs make it fit comfortably on the wrist.
The case also features a brushed finish on the top and polished on the sides, giving it a quality appearance.
The watch is equipped with a sapphire crystal that offers excellent scratch resistance and good readability at different angles.
➤ Dial and Hands
The Steeldive 1970 Captain Willard's dial is available in various colors, such as black, green, and blue. In my case, I chose the matte black version.
The applied hour markers and sword-style hands are covered with a generous amount of C3 luminova, which glows brightly in the dark and provides excellent readability in low light conditions.
Like other Steeldive watches, the dial also features a printed minute bezel on the outer part and an applied Steeldive logo at 12 o'clock.
Although some purists might argue that these details are not true to the original design of the Seiko 6105-8110, in my opinion, they give the watch a distinctive and updated touch.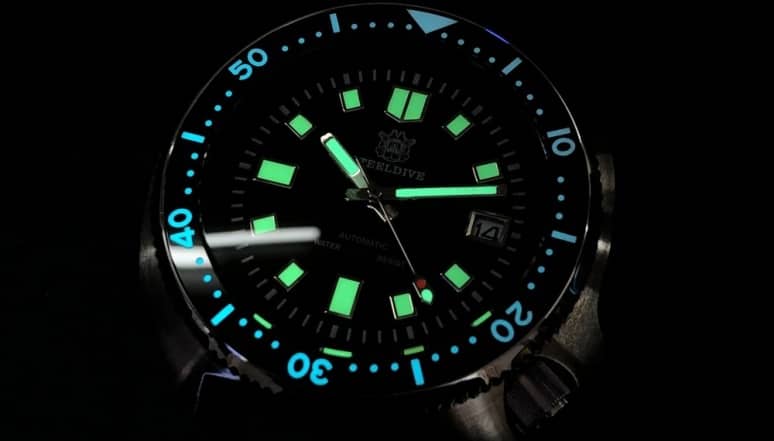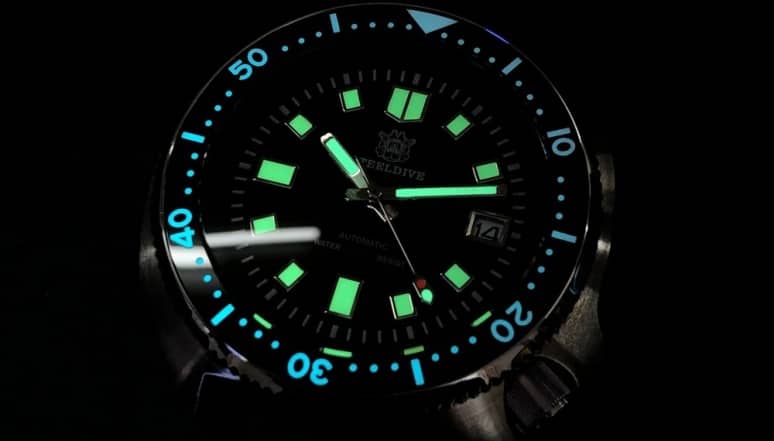 ✚ Functionality and Performance
➤ Movement and Accuracy
The Steeldive 1970 is powered by a Seiko NH35 automatic movement, which is a reliable and widely used option in affordable dive watches.
This movement offers a 41-hour power reserve and features hour, minute, second, and date functions.
As for accuracy, my unit has been running within acceptable parameters, gaining approximately 6 seconds per day.
Although this is not comparable to the accuracy of a COSC-certified watch, it is still an acceptable performance for a watch in this price range.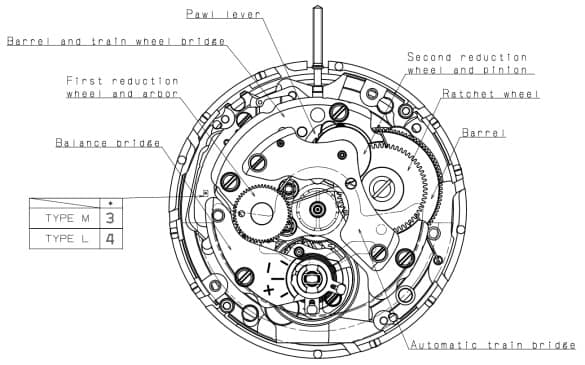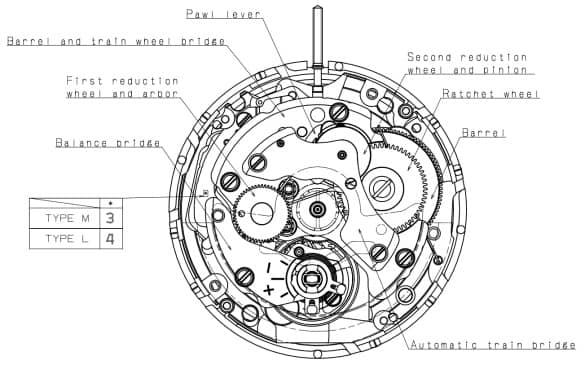 ➤ Water Resistance and Unidirectional Bezel
The Steeldive 1970 offers a water resistance of 200 meters (20 ATM), making it suitable for water activities such as swimming, snorkeling, and recreational diving.
The screw-down crown contributes to the water resistance and provides good protection against shocks and impacts.
The watch features a 120-click unidirectional bezel with a ceramic insert that displays minute markers and Arabic numerals at 10-minute intervals.
The bezel is easy to manipulate and feels solid, with no play or misalignment. Additionally, the alignment between the bezel and dial is precise, which is not always the case in budget dive watches.
✚ Comfort and Adaptability
➤ Strap and Customization Options
The Steeldive 1970 comes with a tropical-style rubber strap, which is comfortable and fits well to the wrist contour.
Additionally, its perforated design allows for good breathability and prevents sweat buildup during use in warm climates or physical activities.
However, if you prefer to change the watch's style, you can opt to install a stainless steel, NATO, or even a leather strap, depending on your preferences and the occasion.
The 20mm lug width makes it easy to find a wide variety of compatible straps on the market.
➤ Suitability for Different Occasions
Despite being a dive watch, the Steeldive 1970 is versatile enough to be used in different situations and occasions.
Its classic and timeless design makes it suitable for daily wear, while its sturdiness and water resistance make it an excellent choice for outdoor and sports activities.
Moreover, with a suitable strap and more subdued dial colors, the watch can even adapt to more formal or business situations without being out of place.
---
In conclusion, the Steeldive 1970 Captain Willard is an automatic dive watch that offers an attractive design, good performance, and excellent value for money.
Although it is not an exact replica of the original Seiko 6105-8110, its aesthetics and features make it an interesting option for those looking for a dive watch with its own personality and style.
In my opinion, if you're looking for an affordable and quality dive watch, Steeldive is an option you should seriously consider.
Of course, there are other options on the market, but this watch offers a hard-to-beat combination of design, functionality, and price.
This text may contain some affiliate links. If you click on one of these links and purchase a product, relojes.wiki will receive a small commission (at no cost to you) that helps maintain the blog.
Relojes.Wiki participates in the Amazon EU and Amazon US Associates Program, an affiliate advertising program designed to provide websites with a means to earn advertising fees by advertising and linking to Amazon.es, Amazon.com and Amazon.co.uk
As an Amazon Associate, I earn from qualifying purchases.
More info.
Last update of links and images on 2023-12-07.