This text may contain some affiliate links. If you click on one of these links and purchase a product, relojes.wiki will receive a small commission (at no cost to you) that helps maintain the blog.
The Seiko SNXS77 is one of the most economical mechanical watches from the Japanese brand, and that in no way compromises its quality.
In this case, we're talking about a classic watch with a simple yet very comfortable design, thanks to its compact dimensions and a crown set at 4 o'clock.
With its 38mm diameter, it's ideal for those who prefer or need smaller watches, and its automatic movement will spare you from changing batteries forever.
It even displays the date and day of the week. If you want to delve into all the details of the Seiko SNXS77, we'll tell you everything in this post.
¡OFER! -5%
Top Sales
✚ Seiko SNXS77 – Specifications
| | |
| --- | --- |
| Brand | Seiko |
| Model | SNXS77 |
| Crystal Type | Hardlex |
| Materials | Stainless Steel 316L |
| Diameter | 38 mm |
| Thickness | 12 mm |
| Strap Width | 19 mm |
| Lug to Lug Length | 42 mm |
| Movement | Japanese Automatic |
| Caliber | Seiko 7S26 |
| Power Reserve | 41 hours |
| Accuracy | – 15 / + 25 seconds per day |
| Water Resistance | 3 ATM (30 meters) |
| Complications | Date and day of the week with quick adjustment |
✚ A bit of history about Seiko 5
The Seiko SNXS77 is one of the most iconic models in Seiko's series 5, a collection of watches with over 50 years of history.
The Seiko 5 series dates back to 1963 when the company launched the Sportsmatic 5, a watch that integrated multiple innovations for its time.
That first Seiko 5 included Diaflex technology (Seiko's unbreakable spring), Diashock system to withstand shocks, and it was also water-resistant.
In fact, the "5" refers to the 5 attributes that every Seiko 5 watch should have:
Automatic winding
Day and date displayed in a single window
Water resistance
Recessed crown at 4 o'clock
Durable case and strap
The brand's intention with these watches was to make robust and durable automatic watches that anyone could afford, suitable for any adventure.
In 2019, the brand revamped the Seiko 5 lineup, renaming it Seiko 5 Sports and introducing larger and more sporty watches, though classic models like the Seiko SNXS77 are still available.
Seiko 5 watches remain the most affordable mechanical watches from Seiko to this day, but they retain all the characteristics that have made them so popular.
✚ Design and features of the SNXS77
The Seiko SNXS77 is a simple and lightweight watch, making it highly versatile for everyday wear. It's one of those timeless classics that can be worn in any situation.
Its design is not only meant to be comfortable but also functional, thanks to its reliable automatic movement.
To better understand these claims, let's take an in-depth look at each element:
➤ Case and crown
With a 38mm diameter and 12mm thickness, the case of the Seiko SNXS77 has a fairly compact design that fits well on most wrists.
It's made of polished stainless steel and features a transparent screw-down case back, allowing you to observe the mechanical movement's gears in action.
The crown is partially integrated into the case and placed at 4 o'clock, which is very comfortable as it doesn't interfere with wrist movement.
Some may find this crown design a bit challenging to manipulate, but in an automatic watch like the SNXS77K, it's hardly necessary to use it at all.
➤ Dial and crystal
The dial has a simple yet elegant design, with applied rectangular markers and a sunburst background that changes shades depending on the lighting.
The hands also have a fairly simple rectangular design and are finished in a polished metallic tone.
Both markers and hands are coated with a generous amount of fluorescent lumibrite, making them visible in the dark.
The date window is located at 3 o'clock and displays both the day of the week and the date, which is standard for all Seiko 5 watches.
The crystal is made of hardlex, a type of hardened mineral crystal owned by Seiko. It's more scratch-resistant than traditional mineral crystal but not as scratch-resistant as sapphire crystal.
➤ Bracelet and clasp
Seiko SNXS77 watches typically come with a 19mm oyster-style stainless steel bracelet with a folding clasp.
The bracelet has some flexibility and a bit of play, but it's also very lightweight, which makes it comfortable to wear.
Regarding the clasp, it features the brand's logo engraving, but it doesn't have a double security closure.
The bracelet is usually the weak point in this type of affordable watches, and this one is definitely not one of the best, but for the price, you can't expect much more.
➤ The movement
The SNXS77 operates with a Seiko 7S26 automatic movement, a caliber that may not be particularly attractive but is highly robust and reliable.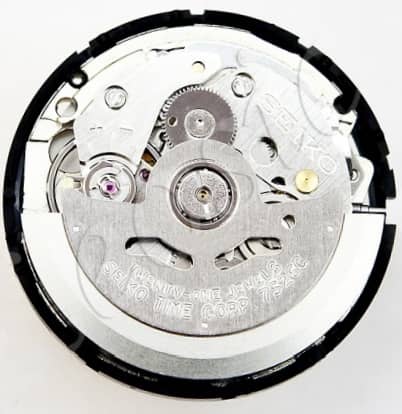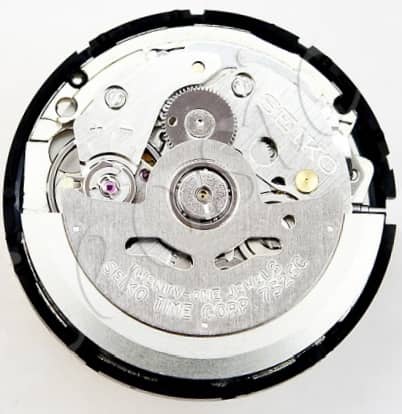 It's what watch enthusiasts call a workhorse movement, as it can function properly for many years without requiring any maintenance.
Technically, it's a 21-jewel movement that operates at 21,600 vibrations per hour and can store over 40 hours of power reserve.
It also features complications for the date and day of the week with quick adjustment, although it doesn't have manual winding or hacking seconds.
The lack of manual winding is the main weak point of the 7S26, but Seiko's bidirectional winding system (Magic Lever) is efficient enough that you won't miss this detail.
As for accuracy, the brand sets it between -15 and +25 seconds per day, a range that is usually more precise in practice.
Within that range, users of the mechanism often report accuracy closer to ±10 seconds per day, which is quite impressive for such an affordable watch.
In summary, it's a simple mechanism that requires no attention once it's set, perfectly complementing the watch's design.
✚ Available versions
Currently, there are several models or versions of the Seiko SNXS77, with only the color combination being different.
The most well-known ones are the Seiko SNXS73K, which has a white dial, and the Seiko SNXS75K, with a gray dial and gold-tone hour markers.
Here's a comparison of each of them:
✚ Prices and reviews
In this case, we are possibly talking about one of the automatic watches with the best price-to-quality ratio that you can find.
Just look at the hundreds of positive reviews these watches receive to realize that they truly meet expectations.
While it's true that there are Chinese automatic watches with good performance that may be slightly cheaper, some even with Japanese movements, they don't offer the same level of quality control.
On the other hand, wearing the Seiko brand ensures that everything will function as it should, even in the most affordable models, making these watches always a wise choice.
This text may contain some affiliate links. If you click on one of these links and purchase a product, relojes.wiki will receive a small commission (at no cost to you) that helps maintain the blog.
Relojes.Wiki participates in the Amazon EU and Amazon US Associates Program, an affiliate advertising program designed to provide websites with a means to earn advertising fees by advertising and linking to Amazon.es, Amazon.com and Amazon.co.uk
As an Amazon Associate, I earn from qualifying purchases.
More info.
Last update of links and images on 2023-11-30.