The Seiko SNK805 is an automatic watch belonging to the prestigious Seiko 5 series, known for its military-inspired design and exceptional value for money.
With a stainless steel case, a military green dial, and a matching nylon strap, the Seiko SNK805 is the perfect companion for everyday wear, demonstrating that style and practicality can go hand in hand.
If you're looking for a watch that serves as both a fashion accessory and a reliable tool, the Seiko SNK805 could be the perfect choice for you. Here are all its features.
Seiko SNK805
Military style
Hardlex crystal
Japanese automatic movement
40-hour power reserve
Water-resistant
✚ Seiko SNK805 – Specifications
| | |
| --- | --- |
| Brand | Seiko |
| Model | SNK805 |
| Series | Seiko 5 |
| Movement | Japanese automatic |
| Caliber | Seiko 7S26 |
| Power Reserve | ~ 40 hours |
| Precision | +20 ~ -15 seconds per day |
| Water Resistance | 3 ATM (30 meters) |
| Complications | Date and day of the week with quickset |
| Crystal Type | Hardlex |
| Materials | Stainless steel case and nylon strap |
| Case Diameter | 37 mm |
| Case Thickness | 11 mm |
| Strap Width | 18 mm |
| Lug to Lug Length | 43 mm |
| Weight | 59 grams |
| Dial Color | Military green |
| Strap Color | Military green |
✚ History of the Seiko 5 Series
The Seiko SNK805 is one of the most popular Seiko 5 models, as it perfectly encapsulates the philosophy of the series: to offer quality automatic watches at an affordable price.
The models in this series have a rich and fascinating history that dates back over half a century, as it was in 1963 when the famous Japanese watch brand released the first Seiko 5.
Seiko's objective at that time was to make quality automatic watches more accessible, which meant competing with Swiss brands of the era.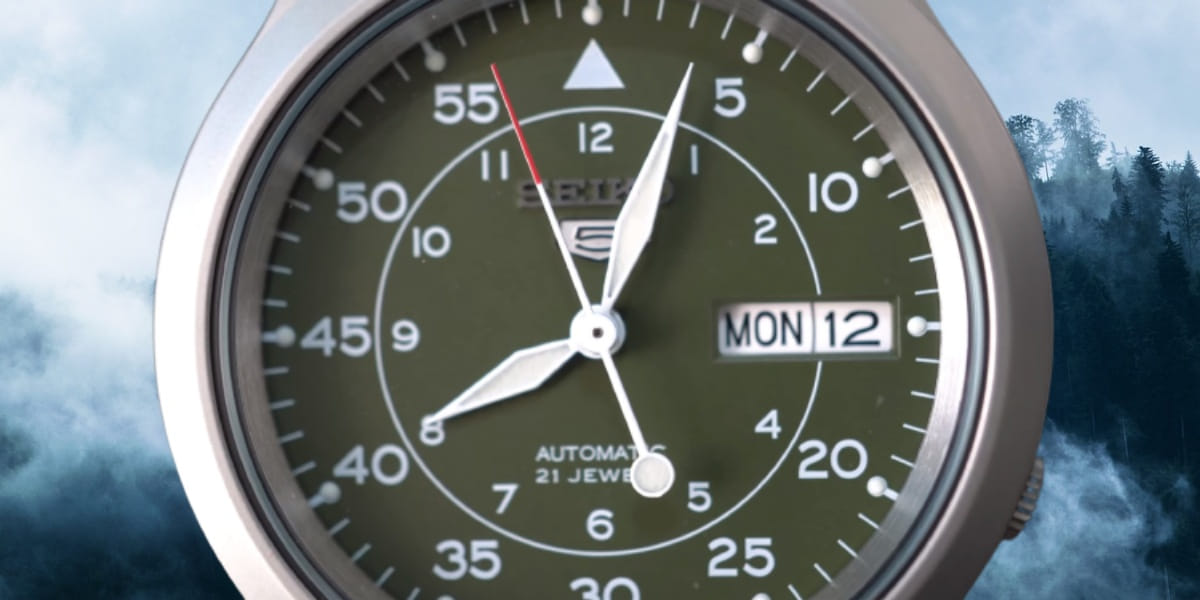 There has been much debate about the meaning of the "5" in the Seiko 5 emblem, although the general consensus is that it derives from the five key features the brand aims for in each watch of the series:
Automatic movement with Diashock protection: All Seiko 5 watches feature an automatic movement with Diashock protection against shocks.
Water resistance: They are also water-resistant, making them suitable for everyday wear.
Day and date display: In addition, they must have a day and date display, a practical feature for daily use.
Crown at 4 o'clock: The crown on most of these watches is positioned at 4 o'clock, providing additional comfort.
Durable case and Diaflex spring: On the outside, these watches have a robust case to withstand wear and tear, while internally they incorporate quality components, such as the Diaflex spring, made of a special unbreakable alloy.
These characteristics have remained constant in the Seiko 5 series over the years, although designs and technologies have evolved.
Over the years, the series has added a wide variety of models, each with its own style and personality, but all maintaining the five key characteristics that define them.
Today, the Seiko 5 series is a testament to Seiko's commitment to innovation, quality, and affordability, and it continues to be a popular choice for watch enthusiasts worldwide.
✚ Design and Features of the Seiko SNK805
The Seiko SNK805 is an automatic military-style watch with an elegant and discreet aesthetic. It also features some noteworthy components that are worth examining separately.
➤ Case
The case of the SNK805 is made of stainless steel, providing exceptional resistance and durability. It also has a satin finish, giving it an elegant and understated look, perfect for any occasion.
It also features a transparent or exhibition case back, allowing you to see the internal mechanism in action with all its intricate details.
In terms of dimensions, with a diameter of 37 mm, this case has a moderate size that comfortably fits most wrists. It also has a thickness of just 11 mm.
➤ Crystal
The crystal is of the Hardlex type, a patented hardened mineral crystal by Seiko that is significantly more scratch and impact resistant than standard mineral crystal. This crystal provides excellent visibility and protects the watch dial from damage.
➤ Crown
The crown is located at 4 o'clock, a distinctive feature of the Seiko 5 series. This crown position provides additional comfort and prevents it from catching on the wrist or clothing. It is securely set and allows for easy adjustment of the time and date.
➤ Strap
The strap of the SNK805 is made of military green nylon, matching the watch dial. It is durable and comfortable, and its neutral color makes it versatile to pair with a variety of clothing styles.
It has a width of 18 mm, which is a fairly common size, making it easier to replace if you prefer a different style or material.
➤ Movement and Precision
As for the movement or internal mechanism, the SNK805 uses the Seiko 7S26 Japanese automatic caliber. This movement has a power reserve of approximately 40 hours and a precision of +20/-15 seconds per day.
It is worth mentioning that this movement does not have manual winding or hacking functions, but its reliability and precision are impressive for such an affordable watch.
Seiko SNK805 vs SNK807 and SNK809
The SNK805, SNK807, and SNK809 models are all part of the Seiko 5 series and share the same features. However, there are some subtle differences that may influence your buying decision.
Firstly, the Seiko SNK807 has a blue dial and strap. This color may be a more versatile option for those looking for a watch that can be paired with various styles.
The other features, including the stainless steel case, automatic movement, and water resistance, are the same as those of the SNK805.
On the other hand, the Seiko SNK809 has a black dial and strap, giving it a more classic look. This color can be an excellent choice for those seeking a watch that can adapt to both formal and informal situations.
Like the other two models, the SNK809 features a stainless steel case, automatic movement, and water resistance up to 30 meters.
In summary, the main difference between these three models is the color of the dial and strap. The choice between them will largely depend on your personal preferences and how you plan to use the watch.
✚ Price and Reviews
The price of the Seiko SNK805 may vary depending on the seller and location, but it is generally available for less than €100. This makes it an excellent option for those seeking a high-quality automatic watch without breaking the bank.
---
In conclusion, the SNK805 is a high-quality automatic watch that offers excellent value for money. Its robust design and reliability make it ideal for everyday wear, while its affordable price makes it accessible to a wide range of consumers.
Whether you're looking for your first automatic watch or simply want to add a new timepiece to your collection, the SNK805 is a worthwhile choice to consider.
This text may contain some affiliate links. If you click on one of these links and purchase a product, relojes.wiki will receive a small commission (at no cost to you) that helps maintain the blog.
Relojes.Wiki participates in the Amazon EU and Amazon US Associates Program, an affiliate advertising program designed to provide websites with a means to earn advertising fees by advertising and linking to Amazon.es, Amazon.com and Amazon.co.uk
As an Amazon Associate, we earn revenue from qualifying purchases.
More info.
Last update of links and images on 2023-09-25.