This text may contain some affiliate links. If you click on one of these links and purchase a product, relojes.wiki will receive a small commission (at no cost to you) that helps maintain the blog.
Casio calculator watches, which were very popular in the 80s and part of the 90s, are making a comeback as vintage watches. Here, we will tell you the whole story behind them and which models are the best ones you can get.
Long before smartwatches were invented, there were only digital watches, which were considered high-tech pieces thanks to the new functions they incorporated.
Features like alarm, timer, or stopwatch were groundbreaking at the time, but undoubtedly, the queen of functions was the calculator, and Casio knew how to successfully integrate it into their watches.
The reception of Casio calculator watches was so good that even today they continue to be manufactured and sold as iconic fashion accessories.
The best Casio calculator watches still maintain their functionality, although it may not be as relevant anymore. Let's take a look at them. Let's get started!
✚ Casio Calculator Watches and Their History
Contrary to popular belief, Casio calculator watches were not the first to appear; in fact, they were not invented until the 80s, and the first calculator watch debuted in the 1970s.
➤ The First Calculator Watches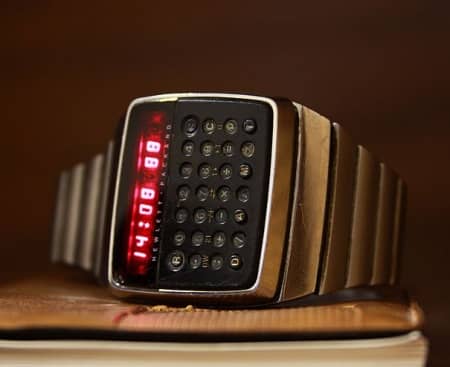 One of the early models of calculator watches that hit the market was the Pulsar Time Computer Calculator 901, introduced by Hamilton in 1975.
The buttons on this model were so small that users could only operate them with a stylus that came with the watch to access the calculator.
One year later, following the debut of the Pulsar Time Computer Calculator 901, Hewlett-Packard, a well-known name in the computer industry as HP, unveiled its very own calculator watch, the HP-01.
The HP-01 is a remarkable digital watch for many reasons. In addition to being the only watch by HP, it can perform mathematical operations based on time, date, and time intervals.
It also had a calendar to display any day of the week from 1900 to 2099 and a unique stopwatch function, not to mention that it was the first algebraic calculator by the brand.
But despite all its excellent features, the high price was too much for the average consumer, and HP failed to conquer the calculator watch market with the HP-01.
➤ Casio's Success in the 80s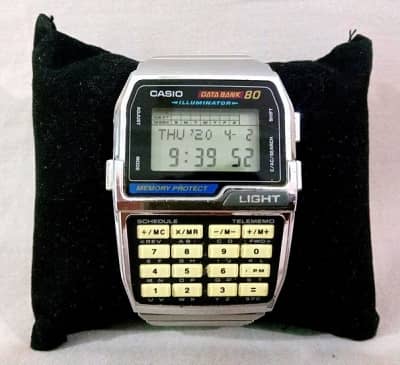 Calculator watches didn't truly become a success until the 1980s when Casio calculator watches with their more affordable plastic cases, such as the Casio C-80 and Databank, appeared.
Another distinctive feature of Casio calculator watches was their fairly large buttons that users could easily press without the need for a stylus.
Additionally, Databank calculator watch models could also store appointments, addresses, names, and phone numbers, which was really useful at that time.
That's how Casio calculator watches became essential for anyone who wanted a bit more technology on their wrist.
➤ Casio Calculator Watches Today
The demand for calculator watches started to decline in the 1990s with the introduction of mobile phones and other personal digital assistants (PDAs) that could perform similar functions.
However, modern advancements like smartwatches and other similar technological inventions have only replaced calculator watches as everyday tools.
In fact, calculator watches are now more than collectibles, especially in brands like Timex or Casio, whose vintage designs can fetch high prices in the second-hand market.
Fortunately, you don't have to be a collector to get one of these watches at a good price, as Casio continues to manufacture many of their iconic models and maintain the low prices that have made them so famous.
✚ Best Casio Calculator Watches
Basically, any model from the Japanese brand is a good choice, but there are designs that are currently more successful. These are the best Casio calculator watches for most people:
➤ Casio DBC611

The Casio DBC611 is a reissue of the 1989 Casio Calculator Watch known as Casio DBC-610. So, when you buy this watch, you really get that '80s vibe.
This watch features an 8-digit calculator on the dial and is available in two eye-catching tones: gold and silver. It also has many useful features, including:
LED light
Data bank
Daily alarm
World time
Countdown timer
Auto-calendar
There's no doubt that it is one of the best Casio calculator watches for those who want to stay true to the original '80s models.

➤ Casio DBC32

The models from the DBC32 series are among the best Casio calculator watches you can find today.
Here, you not only get an 8-digit calculator but also a currency converter, 5 alarms, and a data bank with 25 memories.
Another noteworthy feature is that the data bank is multilingual and allows you to use the watch in 13 different languages. It also boasts an impressive battery life of 10 years.
It is also very easy to read thanks to its large LCD screen with LED backlight. It even has an automatic function to illuminate when you rotate your wrist.
Depending on the model, this watch may come with a rubber strap or a stainless steel strap, which slightly increases the price, although it remains affordable.
➤ Casio CA53

If there's a recognizable '80s watch, it's the Casio CA53, a design that many will recognize because Michael J. Fox wore it in Back to the Future.
In this case, the calculator is accompanied by a practical dual-time function, as well as a daily alarm, stopwatch, and countdown timer. Its battery also promises a lifespan of up to 5 years.
This cool calculator watch is available in various different colors, all with the same features and sporty resin straps.
There are military green, dark blue, white, and even red models. There are also models with a black screen and white numbers, although they offer poorer visibility.
➤ Casio CA56

Next up is a Casio calculator watch that first appeared in 1998. It's the Casio CA-56-1, an affordable, functional, and sporty-looking design.
The initial model of this calculator watch was silver. However, over time, numerous versions have been released in gold, black, and many other colors.
While the watch has "Water Resistant" written on the front of the dial, its water resistance is only 30 meters. So, it should withstand moisture, but it's best not to put it to the test.
One useful feature of this calculator watch is the adjustable strap, which easily fits many wrist sizes, even very small children's wrists.
➤ Casio CA506G-9AVT

The golden Casio CA506G-9AVT calculator watch can definitely stand out with its color and retro design, but it also offers great functionality.
This model features a handy countdown timer and dual time function, as well as a stopwatch and daily alarm. Its battery also promises power for 5 years of use.
It was first released in 1998, so it can be a nice and nostalgic gift for someone born in the '90s.
Unfortunately, the gold plating may wear off over time, although the brand promises multiple layers for greater durability.
However, considering that it's not made of real gold and the gold plating is purely decorative, the gold layer may fade with intense use and wear.
✚ What Is a Calculator Watch?
A calculator watch, at its core, is a digital quartz timepiece that integrates a calculator function.
The watch's design features a moderately sized rectangular face housing small buttons arranged in a calculator-style layout, conveniently worn on the wrist.
These watches excel in performing fundamental arithmetic operations, including addition, subtraction, multiplication, and division, effortlessly handling numbers ranging from 6 to 10 digits.
Certain models of calculator watches even go beyond the basics, offering advanced mathematical capabilities like trigonometry and scientific calculations.
With their quartz movement, these watches maintain exceptional accuracy while requiring minimal upkeep.
Although calculator watches may sport a distinct appearance compared to other digital watches, their operational principles remain largely similar, save for the additional complexity brought by the calculator function.
Last update of links and images on 2023-11-30.