This text may contain some affiliate links. If you click on one of these links and purchase a product, relojes.wiki will receive a small commission (at no cost to you) that helps maintain the blog.
The Casio Marlin MDV 106 is a well-known watch among dive watch enthusiasts. It belongs to the Casio Duro 200 collection and its specifications far exceed its price, which justifies its good reputation.
With its 200 meters water resistance, the MDV 106 is possibly the most submersible dive watch that can be found at a truly affordable price.
The Marlin emblem not only adds a unique look to the watch but has been used by Casio in its most water-resistant watches since the 1980s, although the brand itself is already a guarantee of resistance and durability.
We are facing a quartz watch that could easily pass for other high-end dive watches and in fact resembles some Seiko models in appearance. In this article, we will delve into the history and features of the Casio Marlin MDV 106.
¡OFER! -6%
Specifications
Water-resistant up to 200 meters
Japanese quartz mechanism
Mineral crystal
Anti-reverse rotating bezel
Screw-down crown and screw-lock case back
✚ Casio Marlin MDV 106 Specifications
| | |
| --- | --- |
| Brand | Casio |
| Model | MDV 106 |
| Model Year | 2013 |
| Origin | Japanese |
| Crystal Type | Mineral |
| Display | Analog with fluorescent lume on hands and markers |
| Case Material | Stainless Steel |
| Strap Material | Synthetic Resin |
| Diameter | 44 mm |
| Thickness | 12 mm |
| Strap Width | 22 mm |
| Weight | 92 grams |
| Movement | Japanese quartz movement |
| Accuracy | +-20 seconds per month |
| Water Resistance | 200 m / 20 ATM |
| Bezel | Anti-reverse rotating bezel for calculating dive times |
| Power Source | SR626 battery with 3 years lifespan |
| Other Features | Screw-down crown and screw-lock case back to prevent water infiltration |
✚ A Bit of History About Casio Marlin
The term "Marlin" refers to the fish-shaped emblem found on some of Casio's dive models. It first appeared in the 1980s on some of their most durable digital models.
In fact, those digital Casio Marlin watches are considered the precursors to the current G-Shock models, as they share functions and some similar modules.
The logo, although resembling a swordfish, actually represents a sailfish. In English, "Marlin" refers to a needle, alluding to the characteristic snout of this fish.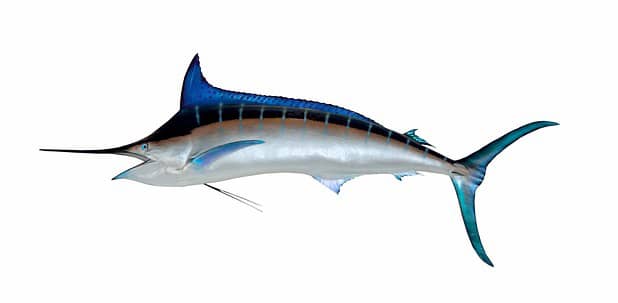 According to the company itself, Casio Marlin watches are adorned with this powerful creature, capable of swimming in the ocean without interruption or rest.
Casio also used other emblems to distinguish their water-resistant watches during the 1980s, such as the diver logo, also considered Marlin watches by collectors.
But the famous emblem does not only belong to vintage watches, as some might believe, but Casio still uses it in some of its current creations, such as the Duro 200 collection, to which the MDV 106 belongs.
✚ Design and Features of the Casio MDV-106
With its 44 mm diameter, the Casio Marlin MDV 106 is a large-sized watch, although the strap attachments are short and slightly curve downward, allowing it to fit well on small wrists without protruding too much.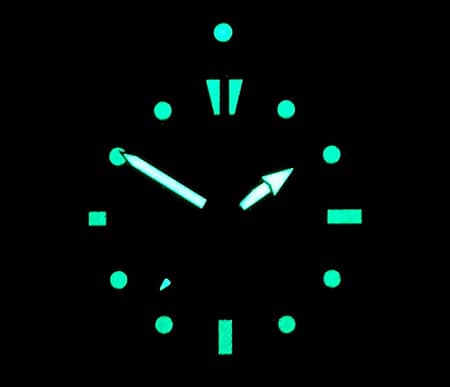 Both the sides of the stainless steel case and the top of the crown are polished, resulting in a nice mirror finish, while the top and bottom have a less reflective brushed finish.
On the back, we can see the engraved famous flying fish emblem of Casio Marlin, along with the serial number followed by the model (MDV 106 in this case) and the water resistance of 20 ATM (200 meters).
The dial, in general, has good visibility as both the hands and the rest of the markers are white on a black background and coated with lume to glow in the dark. This is also used on the main marker of the bezel to know the limit of time during low-light dives.
The fish-shaped logo is also present inside the dial along with the water resistance in meters. Casio manufactures many water-resistant watches, but most are WR 100 M and do not carry the Marlin emblem.

➤ Crown
The crown slightly protrudes from the surrounding guards to be easily rotated with the fingers, although this reduces its protection.
It has two positions for changing the time and date and screws into the case to prevent water from entering its interior.
➤ Bezel
The Casio Marlin MDV 106 features a 120-click bezel with notches on the edge, providing a good grip even when used with wet hands or gloves.
It is a dive bezel, meaning it is unidirectional and anti-reverse, which means it can only be rotated in one direction, which is important when used for calculating dive time.
When a diver spends a lot of time breathing compressed air, their blood and tissues absorb excess nitrogen. This can cause bubbles to form when they resurface. It is known as decompression sickness.
That is why it is important to know the exact time spent underwater while breathing from the tank. A knock on the bezel could accidentally turn it and confuse the diver, but since it moves in only one direction, it can only show more time than the one set.
If it could rotate in the opposite direction, it would be very dangerous because divers might believe they have spent less time submerged than they actually have at depths.
➤ Crystal
The MDV 106 has a flat mineral crystal, which is quite common and more scratch-resistant than acrylic crystal but less so than sapphire crystal. However, acrylic crystal is easier to polish in case of scratches.
It is not a luxury crystal, but one cannot expect more from a low-cost watch like the Casio Marlin MDV 106.
➤ Strap
The strap is made of synthetic resin with grooved ridges near the dial. It is not the most elegant option, but it is soft enough to be comfortable and, above all, water-resistant like the rest of the watch.
However, many people often use NATO straps with this watch as they have a better appearance and are less hot in the summer. Just keep in mind that the size is 22 mm, not 20 mm as some sellers specify.
✚ Mechanism and Operation
There is not much information available regarding the movements Casio uses in their watches, although it is known that their specialty lies in digital watches rather than analog ones, which may feature mechanisms from other manufacturers.
In the case of the MDV 106, there are indications that the module 2776 mentioned on its back could actually be a Miyota 2115 movement.
In any case, it is a quartz movement that is equally reliable and accurate. According to the manufacturer, it has an accuracy of +-20 seconds per month (less than 1 second per day). However, being a quartz watch, the accuracy can be even higher.
✚ Similar Casio Models
Here are some Casio watches similar to the Marlin, especially the MDV-107 model, which has identical specifications and design but does not feature the famous Marlin fish logo.
¡OFER! -6%
Top Sales
¡OFER! -14%
Top Sales
✚ Conclusion
In conclusion, if you are looking for a dive watch that can withstand significant depths but cannot afford the price of a mid-range diver, the Casio Marlin MDV 106 will not disappoint you.
Few watches can withstand 200 meters at that price, and the fact that it is a Casio brand is an added advantage as it can endure the toughest situations without failing.
This text may contain some affiliate links. If you click on one of these links and purchase a product, relojes.wiki will receive a small commission (at no cost to you) that helps maintain the blog.
Relojes.Wiki participates in the Amazon EU and Amazon US Associates Program, an affiliate advertising program designed to provide websites with a means to earn advertising fees by advertising and linking to Amazon.es, Amazon.com and Amazon.co.uk
As an Amazon Associate, I earn from qualifying purchases.
More info.
Last update of links and images on 2023-11-30.