This text may contain some affiliate links. If you click on one of these links and purchase a product, relojes.wiki will receive a small commission (at no cost to you) that helps maintain the blog.
For many, the Casio W86 is considered the true successor to the iconic F91W, a watch that has been the vintage reference model for the brand's followers for decades.
This new W86 not only maintains the classic and recognizable design of the F91W but also incorporates significant improvements in terms of functionality, durability, and aesthetics.
In this article, we will delve deep into the features and advantages of the Casio W86, from its functions to its design and construction quality.
We will also discuss how it compares to its predecessor and why this model has the potential to become a favorite vintage choice for Casio fans.
Casio Reloj de Pulsera W-86-1VQES
Incluye luces LED, alarma y cronómetro
Caja y correa de resina sintética, un material resistente y flexible
Resistente a la presión del agua hasta 50 metros
✚ Casio W86 – Specifications
| | |
| --- | --- |
| Brand | Casio |
| Model | W86 |
| Model Year | 1995 |
| Movement | Japanese Quartz |
| Caliber | Module 3298 (current versions) |
| Case | Resin |
| Strap | Resin |
| Glass Type | Acrylic |
| Dimensions | 37.5 x 35 x 9.5 mm |
| Strap Width | 21 mm |
| Battery | CR2016 Battery (7 years) |
| Water Resistance | 5 bar (50 meters) |
| Special Functions | Electroluminescent Light, Stopwatch, Timer, Alarm, and Calendar |
✚ A Bit of History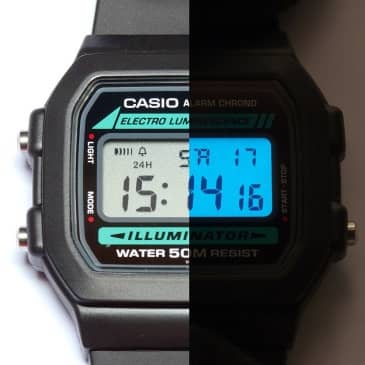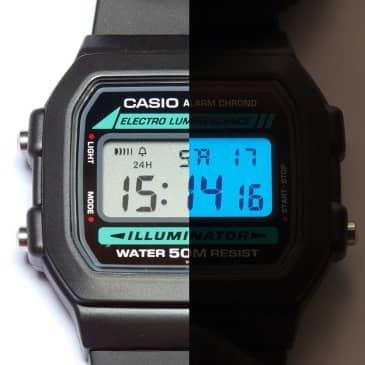 The Casio W86 was introduced to the market in 1995, becoming the first basic model to feature electroluminescent light, a feature that was previously only present in some G-Shock models.
This innovation was crucial in positioning the W86 as an attractive and competitive model compared to other watches of its time, including the legendary F91W.
Throughout its history, the W86 has undergone some variations in its internal mechanism. The early models used modules 1275 and 1572, while the newer variants use module 3298.
These improvements in the internal mechanism of the Casio W86 have allowed the watch to evolve and remain relevant in the market over the years.
With each update, Casio has demonstrated its commitment to offering high-quality and functional watches at affordable prices, making the W86 a worthy and successful successor to the iconic F91W.
✚ Casio W86 Design and Features
The Casio W86 features a retro design inspired by Casio watches from the 1980s and 1990s, making it an attractive choice for those nostalgic for that era and vintage watch enthusiasts.
➤ Case and Dial
The W86's case measures approximately 37.5 mm wide, 33.5 mm long, and 9.5 mm thick, making it a suitable size option for both large and small wrists.
It is made of resin, with an angular and square shape, and its digital display is framed by green text indicating "Electro Luminescence" and "Illuminator."
The button layout is similar to that of the F91W, with light and mode buttons on the right side and the start/stop button on the left side.
This case is water-resistant up to 50 meters, which means it can withstand shallow water activities such as swimming without any problems. However, it is not recommended for diving or high-pressure water activities.
As for the dial of the Casio W86, it follows the brand's classic design scheme, with a digital LCD display showing the hours, minutes, seconds, and date.
The font and numbers have been slightly redesigned compared to the F91W, offering a more modern and easy-to-read appearance.
It also features an electroluminescent light that provides brighter and more uniform illumination compared to the F91W's light.
➤ The Crystal
The W86 uses an acrylic crystal, which is common in basic Casio watches and sports models for its shock resistance.
Although acrylic can scratch easily, it can also be polished with the right technique and is not as expensive as other types of crystals.
➤ The Strap
The Casio W86's strap is made of a soft, durable, and wear-resistant type of plastic resin, allowing for prolonged use in various conditions.
With a width of 21 mm, this strap maintains a balanced blend of durability and aesthetics, without being overly bulky or uncomfortable for the wearer.
Compared to other models like the F-91W, the W86's strap has a softer and more comfortable texture, enhancing the user experience.
This design also ensures a secure and comfortable fit on the wrist, with a buckle-type closure for easy adjustment and use.
It also has a slightly longer length than the F-91W's strap, making it better suited for various wrist sizes, although not necessarily for larger ones.
Another detail is the built-in ventilation grooves in the strap, allowing for adequate airflow and preventing sweat buildup.
This ensures that the wrist can breathe, especially during sports activities or in hot and humid conditions.
➤ The Movement
The new Casio W86 operates with the 3298 module, a Japanese quartz movement known for its reliability, precision, and long-lasting battery.
The manufacturer declares an accuracy of +-30 seconds per month for this mechanism, and the battery (a CR2016) can last up to 7 years.
The 3298 module used in this model does not offer additional functions compared to the F-91W's 593 module, but it significantly improves the quality of the screen's illumination.
These functions, just like in its predecessor, are very useful for daily life. They include:
Stopwatch: Capable of measuring elapsed time with a precision of 1/100 of a second for up to 24 hours.
Daily Alarm: Allows you to set a daily alarm for reminders or wake-up calls.
Auto Calendar: Automatically adjusts the date, taking leap years into account.
12/24-Hour Format: Option to choose between 12-hour or 24-hour time format.
Hourly Time Signal: Emits a beep every hour to keep track of time.
✚ Casio W86 vs. Casio F91W
The Casio F91W is known for being an affordable watch with durability and a wide range of basic functions.
While the Casio W86 has managed to maintain these qualities, it has also introduced significant improvements in aspects such as water resistance, illumination, and material quality.
Here are some key differences between the two models:
Water Resistance: The W86 has a water resistance rating of 5 ATM (WR50M), which is superior to the 3 ATM (WR30M) water resistance of the Casio F91W. This means that the W86 can handle activities like swimming and fishing without any issues.
Lighting: The electroluminescent technology of the W86 is more advanced than the LED backlight used in the F91W. This results in greater energy efficiency and more uniform illumination across the entire screen.
Materials and Manufacturing: The W86 is manufactured in Thailand, while the F91W is produced in China. Additionally, the W86's strap is slightly longer and has a more pleasant feel compared to the F91W's strap.
Price and Reviews
The Casio W86 is priced in a similar range to the F91W, making it an affordable option for those looking for a reliable and functional watch with a classic and attractive design.
Its price may vary slightly depending on the region, seller, and availability, but in general, it can be found online or in physical stores at a competitive price.
In summary, the W86 has earned its reputation as the true successor to the F91W, thanks to its improved design, practical features, and enhanced durability.
With an affordable price and a classic yet modernized style, this watch offers excellent value for money and is a solid choice for those seeking a basic and reliable vintage Casio watch.
This text may contain some affiliate links. If you click on one of these links and purchase a product, relojes.wiki will receive a small commission (at no cost to you) that helps maintain the blog.
Relojes.Wiki participates in the Amazon EU and Amazon US Associates Program, an affiliate advertising program designed to provide websites with a means to earn advertising fees by advertising and linking to Amazon.es, Amazon.com and Amazon.co.uk
As an Amazon Associate, I earn from qualifying purchases.
More info.
Last update of links and images on 2023-11-29.