This text may contain some affiliate links. If you click on one of these links and purchase a product, relojes.wiki will receive a small commission (at no cost to you) that helps maintain the blog.
Today we show you some of the best Casio Illuminator watches, affordable timepieces that combine functionality, design, and technology in a single device with backlighting.
These devices have become popular for their innovative features and for offering easy readability in low light conditions or in the dark, thanks to Casio's patented Illuminator technology.
From athletes to adventurers, professionals to fashion enthusiasts, Casio Illuminator watches adapt to the needs and tastes of every user.
Below, we present a detailed analysis of some of the best Casio Illuminator watches as of 2023 so you can make the best decision when choosing your next timepiece.
✚ Casio Illuminator Technology
Casio Illuminator is a patented technology by Casio that provides efficient and uniform backlighting on the screen of their digital and analog-digital watches.
This innovative feature allows for easy reading of the time and other watch functions in low light conditions or in the dark.
Over the years, Casio has developed different versions of its Illuminator technology, adapting and improving it to meet the needs of its users.
➤ Super Illuminator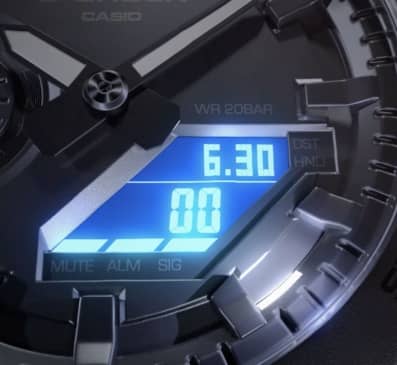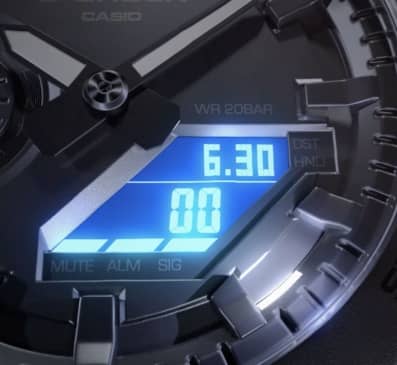 The latest evolution of Illuminator technology is the Super Illuminator. This enhanced version provides an even brighter and more powerful backlight, ensuring greater visibility in the dark.
Watches equipped with Super Illuminator feature a high-intensity LED light that enables easy and quick reading of the time and functions in any lighting conditions.
This feature is especially useful in sports and adventure watches, where visibility and accuracy are crucial.
➤ Illuminator Auto
The Illuminator Auto is another variation of Casio's lighting technology. This feature allows the backlight to automatically turn on when the user turns their wrist towards themselves, making it easy to read the time without pressing any buttons.
The built-in sensor in the watch detects wrist movement and intelligently activates the LED light, enhancing the convenience and functionality of the watch.
➤ Neobrite
While not a direct variation of Illuminator technology, Neobrite is another innovation by Casio in the field of illumination.
Watches equipped with Neobrite feature hands and/or markers coated with a special paint that glows in the dark after brief exposure to light.
This feature is found in the best Casio Illuminator watches as an enhancement, providing increased visibility and readability in low-light environments.
🏆 Best Casio Illuminator 2023
➤ 1. Casio W86
The Casio W86 is considered by many as one of the best Casio Illuminator watches because it was one of the first basic models to feature electroluminescent backlight, a feature previously found only in some G-Shock models.
This watch bears a resemblance to the iconic F91W in terms of design but incorporates significant improvements in functionality and durability. It features a resin case and strap, acrylic crystal, and a CR2016 battery that lasts up to 7 years.
➤ 2. Casio Royale AE1200
The Casio AE1200, also known as the "Casio Royale," is a versatile and affordable watch that resembles the Seiko G757 worn by Roger Moore in the 1983 James Bond film "Octopussy."
This watch features extras like an LCD screen with world time map, stopwatch, countdown timer, and a 10-year lithium battery. It also has a water resistance of 100 meters.
Furthermore, it's durable, lightweight, and comfortable, thanks to the typical Casio design with a plastic resin case, making it a top choice among Casio Illuminator watches.
➤ 3. Casio AE-1500WH
The Casio AE-1500WH is a multifunctional sports watch for men suitable for casual and athletic use, thanks to its large digits with Illuminator function.
This model offers basic functions such as date, day of the week, and stopwatch, as well as dual time setting and up to 5 alarms or countdown timers.
One of the standout features of the AE-1500WH is its 10-year battery life, thanks to a new energy-efficient movement.
This Casio Illuminator is made of plastic resin with a rubber strap and has a water resistance of 100 meters.
➤ 4. Casio B640W
The Casio B640W features a rose gold tone that gives it an elegant style and is packed with exclusive Casio functions, including an EL backlight, 1/100-second stopwatch, multi-function alarm, countdown timer, and flash alert.
The battery lasts approximately 3 years, and it comes with an adjustable matching bracelet. The B640W is ideal for pairing with any outfit and for any occasion.
➤ 5. Casio A168WA
The Casio A168WA is an easy-to-use and program watch with electroluminescent lighting, a significant improvement over previous models.
This watch features a classic Casio design with a resin case and adjustable stainless steel strap. Some of its functions include an automatic calendar, daily alarm, hourly time signal, and stopwatch.
The A168WA's battery has a lifespan of approximately 7 years, making it a durable and reliable watch. It's perfect for those looking for a simple, elegant watch that's easy to read in the dark.
➤ 6. Casio W-800H
The Casio W-800H is a sports watch with a functional and user-friendly design that also incorporates Casio Illuminator technology.
The digital display of this model is clear and easy to read, even in low-light conditions, thanks to the LED backlight provided by the Illuminator function.
This watch features a resin case and an adjustable resin strap, making it comfortable for daily wear. Additionally, it's water-resistant up to 100 meters, making it suitable for swimming or even diving.
Other features of the W-800H include dual time, daily alarm with hourly time signal, countdown timer, stopwatch, and automatic calendar.
The battery of the W-800H has an approximate lifespan of 10 years, ensuring extended worry-free use. This watch is ideal for those seeking a classic-looking sports watch with practical functions and great durability.
➤ 7. Casio AQ-S810W
The Casio AQ-S810W combines Illuminator lighting technology with solar power innovation in an elegant and versatile watch.
The solar battery of this model ensures prolonged and eco-friendly operation, as it charges from any light source, natural or artificial. The resin case and adjustable resin strap provide comfort and durability.
This watch offers a wide range of functions, including world time, stopwatch, countdown timer, 5 daily alarms, hourly time signal, automatic calendar, and power-saving mode.
The display of this watch shows both the time and date, and the LED backlight with luminous persistence feature ensures easy readability in low-light conditions.
Furthermore, this model is water-resistant up to 100 meters, making it suitable for use in water, including activities like diving or swimming.
---
In summary, Casio Illuminator watches offer a wide range of features and styles to meet the needs of every user.
From the classic W86 to the famous Casio Royale AE1200 or the adventurous Casio AQ-S810W, there's a Casio Illuminator watch for everyone.
By choosing one of these watches, you not only get the convenience of Casio lighting technology but also a durable, reliable, and versatile watch that will accompany you on all your adventures.
Last update of links and images on 2023-11-30.