This text may contain some affiliate links. If you click on one of these links and purchase a product, relojes.wiki will receive a small commission (at no cost to you) that helps maintain the blog.
If you're looking for an affordable and versatile watch, the Casio AE1200 or "Casio Royale" is an excellent choice, priced at less than €50 and it even has an interesting nickname.
This watch is considered a "Bond Watch" due to its similarity to the Seiko G757 model used by Roger Moore in the James Bond film Octopussy in 1983.
Unfortunately, the G757 is no longer in production, and the remaining units are sold at exorbitant prices, but the Casio AE1200 is an excellent low-cost alternative.
But don't be fooled by its affordable price, the Casio Royale has a few extras, such as a 10-year lithium battery, an LCD display, a world time map, a stopwatch, and a countdown timer.
Additionally, it is comfortable, lightweight, and very durable thanks to the typical plastic design of Casio watches, which also gives it an iconic 80s style.
So if you're looking for a watch that can do it all and accompany you anywhere, the Casio Royale is definitely worth considering. Here's everything you need to know.
✚ Casio AE1200WH – Technical Specifications
| | |
| --- | --- |
| Brand | Casio |
| Model | AE-1200WH |
| Model Year | 2012 |
| Movement | Japanese Quartz |
| Caliber | Module 3299 |
| Battery | CR2025 Battery (10 years) |
| Crystal Type | Acrylic |
| Case | Plastic Resin |
| Strap | Plastic Resin or Stainless Steel, depending on model |
| Strap Width | 24 millimeters |
| Dimensions | 45 × 42.1 × 12.5 mm |
| Weight | 85 grams (with stainless steel bracelet) |
| Water Resistance | 10 bar (100 meters) |
| Alarm | 5 daily alarms and snooze function |
| Special Functions | World Time, Stopwatch, Timer, LED backlight |
✚ Casio Royale and Seiko G757: The History
The Casio Royale AE1200WH owes its fame to the Seiko G757 Sports 100 used by the famous secret agent James Bond, portrayed by Roger Moore, in the 1983 film "Octopussy."
In the movie, the G757 is an advanced tracking device that allows Bond to locate the valuable Fabergé egg, and it is visible in several scenes.
Bond wears the watch from the beginning of the story, posing as General Toro, and he uses it at various moments, such as in M's office, the Sotheby's auction, during his trip to India, and in a casino game.
Q, the technology expert of the secret service, explains how the watch can track the Fabergé egg thanks to its radio direction finder-compatible tracking device.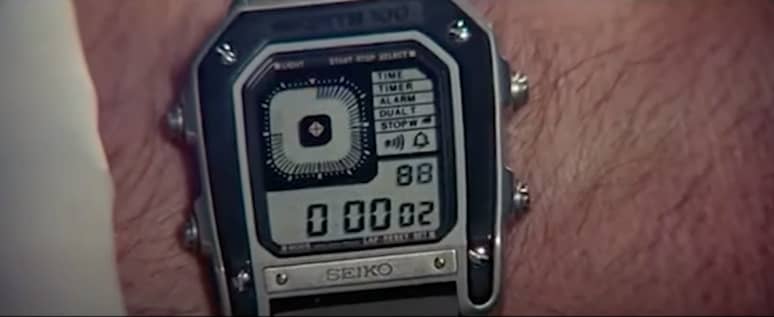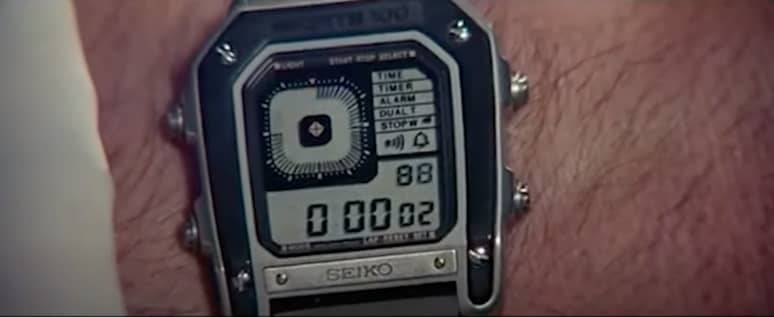 In this way, the G757 receives several close-ups during the movie, especially when used to locate the Fabergé egg, and it is also highlighted when Bond needs to know the remaining time to disarm a bomb in Germany.
Specifically, the Seiko model that appears in the movie is the G757-5020, released in late 1981, which has been discontinued for many years.
This makes it a highly sought-after and hard-to-find watch, with prices going above $1000 when it comes to the exact model identical to the one in the movie.
On the other hand, the Casio AE1200 was first released in 2012 and was nicknamed Casio Royale by some fans who consider it a cheap alternative to the G757.
The nickname is actually a nod to another Bond movie, "Casino Royale," and the similarity to the G757 is not very extensive, but everyone knows their connection.
✚ Design and Features
The Casio Royale is a multifunctional digital watch with a retro touch that is hard to miss, combined with the brand's quality construction.
Certainly, you won't find sapphire or any other expensive material in this watch as it is a very affordable battle watch, but it is built to last. Let's break it down:
➤ The Case
One of the first things that catches your attention when you see the case of the Casio AE1200 watch is its square and angular shape. This shape is atypical compared to the more traditional round designs.
The watch has a compact size, measuring 42.1 mm wide, 45 mm lug to lug, and 12.5 mm thick. It is very comfortable to wear on the wrist, and surprisingly, the square profile even contributes to its comfort.
At first glance, the watch case appears to be made of metal, but it is actually made of plastic resin coated with a layer of silver paint.
This means that the coating may start to peel off after a while, especially if the watch is not cared for, but it can always be replaced given its affordability.
In any case, the watch features a stainless steel back cover held by four screws, providing a water resistance of 10 BAR (100 meters).
According to Casio's official website, the watch is "suitable for showering, swimming, or even snorkeling, but not for water skiing or deep-sea diving."
➤ Crystal and Dial
The Casio Royale features an acrylic crystal, a material that can easily be scratched if it comes into contact with objects, but it is also easy to repair. In any case, it's not worth investing in an expensive crystal for this watch considering its price.
The dial is a liquid crystal display or LCD, divided into several sections, which gives it greater depth and facilitates the distinction between different functions.
To facilitate reading the watch in any lighting condition, an orange backlight has been used, typical of classic Casio watches. This backlight illuminates all the displays of the watch and stays active for 2 seconds when the corresponding button is pressed.
When observing the dial, you can see that there are many elements to display. The main time is shown at the bottom, along with the day, date, and month.
This is the primary time display and allows you to switch between four pre-set time zones, which is very useful for frequent travelers.
Just above, you can see a world map on the day/date display, with the current time zone highlighted.
Although it is small and some might consider it to serve no purpose, it adds an aesthetic touch and demonstrates the attention to detail in the design. Above, the alarms, hourly signal, and button operation tone are displayed.
In the upper left corner, Casio has found space to place a secondary time display, in the form of a digital analog clock.
This display always shows the time in the pre-set local time zone, a useful feature for travelers who want to know the time back home at all times.
➤ The Bracelet
The genuine Casio Royale comes with a stainless steel bracelet, which provides an interesting contrast to the plastic case of the watch and its metallic finish.
There are also versions with rubber and fabric straps, but they differ more in appearance from the Bond watch.
One advantage of this bracelet is that it is relatively narrow, which improves comfort when wearing the watch. It starts with a width of 24 millimeters near the lugs and tapers down to 18 millimeters at the clasp.
While it may be somewhat noisy and doesn't provide a high-quality feel, considering its price, it can be said to function adequately.
As for the clasp, it features a single-fold clasp with a double push button, providing greater security and preventing accidental opening.
Overall, we can't classify it as a terrible bracelet, but we also can't expect great things from a product in this price range. It serves its purpose.
➤ Movement
The movement that powers this watch is the Casio Module 3299, a multifunction quartz mechanism with a declared accuracy of -/+30 seconds per month. It also boasts an impressive 10-year battery life.
The functions include world time, 4 time zones, 5 alarms, stopwatch, countdown timer, automatic calendar, and the aforementioned LED backlight.
A second time display can also be set simultaneously on the screen, allowing for an additional time in addition to the local time.
With so many useful functions and an attractive design, this watch is an excellent choice for anyone looking for a versatile and reliable tool.
✚ Casio AE1200 Models
The Casio AE1200 is available in 3 color options: silver, military green, and black. Therefore, it also comes with 3 different straps, one stainless steel, one rubber, and a third fabric strap.
To stay true to the Bond style, it is ideal to choose the stainless steel bracelet. In any case, these are all the available options:
➤ AE-1200WH-1AV
The first variant of the Casio AE1200 is a watch purely designed in plastic resin, without chrome or a stainless steel bracelet, which is reflected not only in appearance but also in price.
Using a rubber strap also makes it a lighter and more lightweight watch, although it gives less of a quality feel and cannot be considered a true Casio Royale.
Internally, it is the same watch, with the same movement and functions, so it can be considered an economical alternative if you don't mind the metallic look.
➤ AE-1200WH-1CV
The AE-1200WH-1CV model differs in that it includes chrome plating on the case but still uses a rubber strap instead of a stainless steel one.
This makes it equally more affordable and keeps the lightweight, but it opens up the possibility of incorporating a stainless steel bracelet in the future, which will match the case.
➤ AE-1200WHD-1AV

The AE-1200WHD-1AV model can be considered the true Casio Royale, as it features a chromed case and a stainless steel bracelet, bringing it closer in appearance to the Seiko G757.
This also makes it slightly heavier than the other two models, although at 85 grams in total weight, it can't be considered a heavy watch.
Internally, all three models are identical, but a stainless steel bracelet can definitely make a difference as it doesn't look like a plastic watch, and the price doesn't increase much more.
✚ Price and Reviews
In conclusion, the Casio AE1200 or "Casio Royale" is an affordable and versatile watch that offers a very economical alternative to the discontinued Seiko G757.
Priced at less than €50, this watch features a 10-year lithium battery, a backlit LCD display, a world time map, a stopwatch, a countdown timer, and multiple alarms.
Additionally, it is comfortable, lightweight, and durable thanks to its typical Casio plastic design and stainless steel bracelet with a fold-over clasp.
Overall, if you're looking for a reasonably similar watch that can do it all and accompany you anywhere, this Casio is a good option to consider.
Last update of links and images on 2023-11-29.