This text may contain some affiliate links. If you click on one of these links and purchase a product, relojes.wiki will receive a small commission (at no cost to you) that helps maintain the blog.
The Orient Mako 2 is a watch with a very good quality-to-price ratio, being a highly durable model with the best features on the market. The manufacturer has achieved this based on its 60 years of experience in the watchmaking industry.
Its predecessor, the Mako, was already a well-balanced and affordable model, but it didn't please many people due to issues with the outdated movement and other details.
In response, the Orient Mako 2 was launched, a model that addresses all the flaws of the first version and aims to satisfy all its followers.
Currently, there is also a Mako 3 known as Orient Kamasu, although its features are very similar. However, in this article, we will focus on the Mako 2.
Orient Mako II Automatic
Movimiento automático autoenrollable, una opción ecológica para el cliente exigente. Alimentado por el movimiento diario de su brazo.
Movimiento automático con pantalla analógica y esfera de cristal mineral.
Calendario de fecha, resistente al agua.
Caja de acero inoxidable con esfera azul.
Resistente al agua hasta 20 ATM / 200 metros / 660 pies : adecuado para actividades marinas profesionales de superficie grave deportes acuáticos y...
✚ Orient Mako 2 Technical Specifications
Each creation of the brand is quite classic, making it well-suited to the desires of those who love classic watches. The specifications of the Orient Mako 2 are as follows:
| | |
| --- | --- |
| Brand | Orient |
| Model | Mako II |
| Model Year | 2016 |
| Origin | Japanese |
| Crystal Type | Mineral |
| Display Type | Analog |
| Case Material | Steel |
| Strap Material | Steel |
| Dimensions | 42 mm x 13 mm |
| Strap Width | 22 mm |
| Weight | 173 grams |
| Accuracy | -15 / +25 seconds per day |
| Water Resistance | 20 bar (200 meters) |
| Movement | Automatic |
| Caliber | F6922 |
| Special Functions | Stop Seconds, Manual Winding, Unidirectional Rotating Bezel |
✚ Orient Mako II Features
The Orient Mako 2 is an automatic analog watch with a stainless steel "Diver" or diving strap, allowing it to be submerged up to 200 meters without suffering any alterations or damage.
Its sword-shaped hands make it easy to read the time effortlessly, and they also add an elegant touch. Other important features of the Orient Mako 2 include:
The dial is made of mineral crystal, not sapphire (careful with scratches).
It has a unidirectional rotating bezel.
It is available in three different colors.
The Orient Mako 2 has a power reserve of approximately 40 hours.
It has a calendar, displaying the day of the week at the 3 o'clock position, as well as a button to adjust this function.
Screw-down case back.
Screw-down crown.
The accuracy is -15/+25 seconds per day according to the manufacturer, although some users report even +/-5 seconds per day.
With this combination of features, the Orient Mako 2 offers a delicate blend of design, weight, material, size, and precision. All these aspects make it a highly appreciated watch as its design qualities and quality are well correlated with its price.
✚ Mako II Design
It is a beautiful dive watch that maintains all the design features of its predecessor. The watch dial is essentially the same because the original model's appearance was highly appreciated by fans, and drastic changes were not intended.
At first glance, it may seem somewhat large, but once you wear it on your wrist, it fits very well and creates an eye-catching and elegant effect. In fact, it has a quite suitable size as it does not bother the wrist or feel too heavy.
Its specific measurements are 41.5 mm in diameter, 13 mm in thickness or depth, and 22 mm in strap width. These measurements are identical to its predecessor.
If you are looking for something more voluminous with similar features, the brand also offers the Orient Kano, which has a similar price and a diameter of 44 mm.
Owning an Orient Mako 2 has several benefits, including:
It maintains an excellent balance between quality and price.
Its design is clean, classic, and timeless.
As a Diver watch, it can be submerged in water with confidence, as its movement is well-protected by a screw-down crown that effectively prevents water from entering.
It does not require batteries, so there is no need to open it to change the battery, allowing it to maintain its water resistance for a longer time.
As for disadvantages, the Orient Mako 2 is a Diver watch but lacks some elements that would fully utilize this category. For example, it has low-intensity lume, the bracelet does not have an extension for use over a wetsuit, and over time, the bracelet may lose its fit.
Furthermore, the mineral crystal window, instead of sapphire, makes it prone to scratches, so proper care is necessary.
These details are the only possible criticisms made by the most loyal users of the brand, and their opinions had a significant influence on the improvements made to the design compared to the previous Orient Mako.
✚ Available Versions
The Mako II is available in three different versions:
Black: Stainless steel with a black rotating bezel, luminous indices and hands, screw-down case back, among other shared specifications.
Blue: Stainless steel with a blue rotating bezel, luminous indices and hands, water-resistant, along with other shared specifications of the other two versions.
Pepsi: For this edition, the bezel features the characteristic Pepsi colors, with a red segment and a deeper blue than the previous model. It shares the same technical specifications as the other versions.
If you are looking for an elegant and discreet watch, you can choose the black version. It looks great with all kinds of formal and casual outfits, as its design is fresh, making it highly versatile.
But if you want your watch to catch attention, then you should go for the blue version. This version easily adapts to more sporty dressing styles and immediately grabs attention.
The Pepsi version is more interesting and somewhat eclectic, without sacrificing elegance. This version is less popular, and in some markets, it may cost slightly less because it is not in high demand, although it is undoubtedly beautiful.
This is undoubtedly the best-selling watch of the brand, gaining worldwide recognition from enthusiasts who appreciate its distinctive features. Its characteristics make it stand out, and the combination of materials, design, and colors have made it a classic timepiece.
✚ The Interior: Caliber and Operation
Mechanically, the differences between the Orient Mako 2 and its predecessor are primarily evident.
Firstly, there is the absence of the pusher or button that was located at 2 o'clock in the original Mako model. With this improvement, the day, date, and time adjustments are controlled solely by the crown.
This has been a significant change in terms of design, but more importantly, in terms of functionality, as the outdated button was no longer used by many brands due to water resistance concerns.
By eliminating the button, the chances of water entering the movement are reduced, as it was a critical area. However, for many people, this was the feature that made the original design unique in its class.
The numeral marker on the Orient Mako 2 consists of the numbers 12, 6, and 9, with the space at 3 used for the date and day, once again accurately maintaining the design of the original Mako.
It features a unidirectional rotating bezel with minute markings. In this regard, another important improvement in terms of functionality can be observed. The new Mako has 120 clicks on the bezel compared to the predecessor's 60 clicks, giving it a higher-quality feel.
Finally, the Orient Mako II uses the F6922 caliber, composed of 22 jewels that provide 21,600 vibrations per hour and over 40 hours of power reserve.
Compared to the caliber 46943 of the previous model, the F6922 is an improved automatic movement that allows for hacking seconds and manual winding. These are very useful and coveted functions for automatic watch enthusiasts.
Thanks to the ability to manually wind the watch from the crown, there is no need to constantly move it to keep it powered when it is not being worn. And with the stop-seconds function, it is possible to adjust the time more easily and precisely.
✚ Orient Mako vs. Orient Mako 2
For many, the Mako II bears a striking resemblance to Seiko watches, mainly due to its characteristic of being a high-quality item at a low cost.
The brand is constantly innovating, trying to surpass its own limits, and taking inspiration from the feedback and criticisms of its own audience. Orient is a brand capable of producing high-quality and precise watches at truly affordable prices.
With this model, you have a piece that seems inspired by the elegance of a Rolex but at a third of the cost, so there is no need to spend all your savings on the purchase.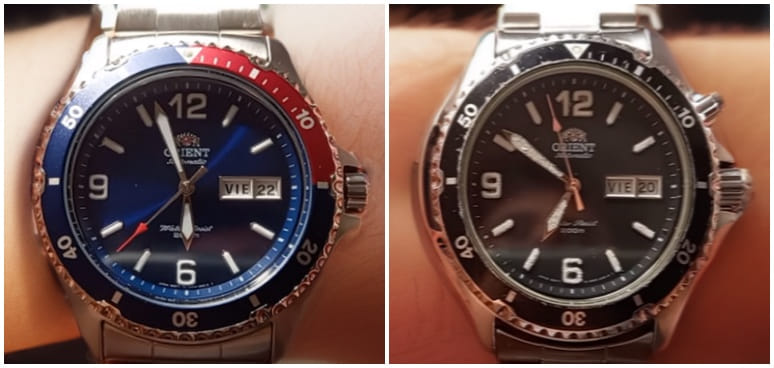 We know that the Orient Mako II is the improved successor of the original Mako, but are there really many differences between the two?
Both models are made of stainless steel with mineral crystal.
Both models are automatic and have a 40-hour power reserve, which is more practical for a dive watch.
They have the same design.
Both feature a rotating bezel.
In reality, both models are practically identical, especially in terms of aesthetics. However, there are notable changes that should be highlighted:
The rotating bezel has 120 clicks, compared to the predecessor's 60 clicks.
The Mako II does not have the upper button. All adjustments are made through the crown.
While the Mako features the caliber 46943, the Mako II is equipped with the more updated F6922 caliber, which allows manual winding and hacking seconds.
✚ Care Considerations
Since the Mako II is an automatic watch, if you stop wearing it for an extended period, it will stop running. To reactivate it, you will need to manually wind it. About 20 to 30 turns of the crown should be sufficient.
On the other hand, if you use the watch underwater, it is important to avoid moving the crown and buttons, as doing so could allow water to enter the watch and cause significant damage.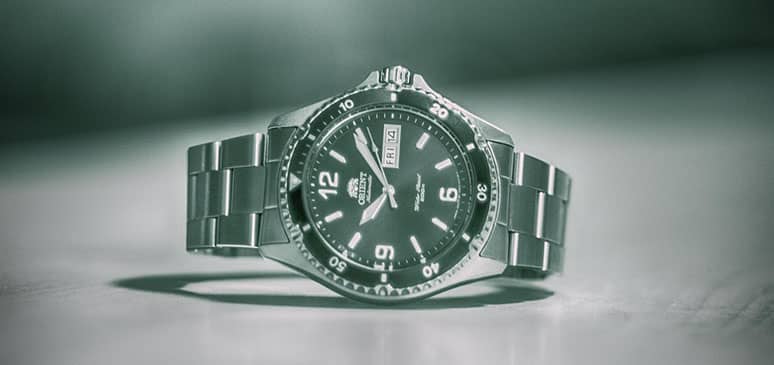 Given the characteristics of seawater, the materials can be damaged. Therefore, it is necessary to rinse the watch with fresh water after submerging it in the ocean to prevent corrosion caused by salt and sand.
Regularly removing dust and cleaning the watch will help it maintain its appearance and always look new.
This text may contain some affiliate links. If you click on one of these links and purchase a product, relojes.wiki will receive a small commission (at no cost to you) that helps maintain the blog.
Relojes.Wiki participates in the Amazon EU and Amazon US Associates Program, an affiliate advertising program designed to provide websites with a means to earn advertising fees by advertising and linking to Amazon.es, Amazon.com and Amazon.co.uk
As an Amazon Associate, I earn from qualifying purchases.
More info.
Last update of links and images on 2023-11-30.